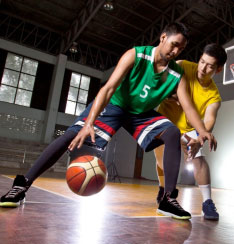 Many people see a basketball shoe as more of a fashion statement than a functional piece of footwear. After all, the basketball shoe has risen to the pinnacle of style, with certain brands fetching high prices and creating a million dollar niche in the shoe market that was not previously possible.
However, for those playing the game the right basketball shoe can make all the difference in a player's performance. For these athletes, the brand can matter very little as they pay close attention to the function aspects that can make or break a player's stride.
There are several different factors to remember when selecting basketball shoes, but the important aspects are the similar to any shoe standard that needs to meet a level of expected performance. Whether you play pickup games on the weekends or are a serious athlete, read on to learn how to choose a basketball shoe that won't let you down.
The Fit
The proper fit is important with any shoe, but with a basketball shoe for a serious player, the fit can make the difference between finishing a game on a high note and limping off the court. Even if you've had your foot measured recently for another style of shoe, it's important to have your foot measured by someone who is familiar with the basketball shoe, such as the shoe professionals at Jimmy Jazz footwear.
Keep in mind different brands may be sized differently, so it's important to test the fit carefully with each pair you try. You may feel a little silly, but it's important to fully test the shoe before you buy it. Run up and down the aisle, jump a few times, and shift from side to side to ensure the shoe isn't going to fail you on the court.
The Style
When we refer to style in the context of the serious basketball player, the overall look of the shoe is secondary, but the design is crucial. There are three styles of basketball shoe, the low top, the mid top and the high top, and each is suited to a specific style of play.
Low tops. Low tops tend to be the lightest and are popular with players who rely a great deal on their speed while playing. However, the low top variety provides no ankle support, so consider this when shopping.
Mid tops. Mid top shoes provide moderate ankle support, and while they might be a little heavier than their low top counterparts, these shoes are the most popular choice. This shoe tends to be ideal for all around players.
High tops. High tops provide complete ankle support, but many players find the added bulk to be an issue. However, there are many players who swear by this style based on the level of protection, and for them, the added weight is not a problem.
Your Game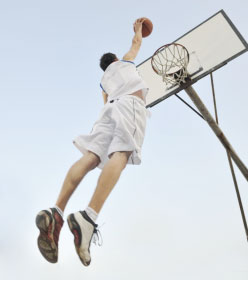 An accurate assessment of one's game and playing style is crucial when choosing the right shoe. Different positions have different needs in a basketball shoe, so determine your particular playing style before you go shopping.
The power player. This type of player relies on their ability to move quickly and effectively in small spaces, and they may spend most of the game near the goal. This player needs a shoe with maximum support, so a high top style is most effective.
The fast player. The fast player needs to remain quick and agile at all points on the court throughout the game. The fast player is better suited to a low top style offering lightweight comfort.
The all-around player. This player might play multiple positions in a single game. A mid top shoe, which offers a combination of qualities from the other two types of shoe, is the perfect choice for support and medium weight durability.
The Price
Anyone who has shopped for basketball shoes knows the prices can range widely. There's no need to spend a great deal of money if you don't want to as great deals can be found everywhere.
Once you've tried a pair you like, do a bit of bargain hunting. You might be able to find the same pair on sale at a different retailer. Alternatively, when the new major brand models are released each year choose the subsequently cheaper previous year's model.
Once you chose your new basketball shoes, take good care of them. Keep your shoes in good condition by only using them for basketball, and make sure they're dried properly if they ever become wet. A great pair of basketball shoes means a lot to a player, so it's important to choose the best pair possible. Follow these tips and you might find that your game goes from so-so to excellent the minute you step on the court in your new basketball shoes.