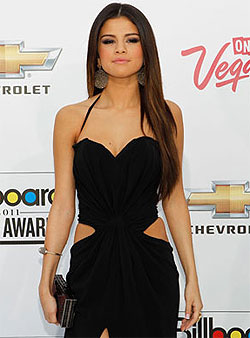 Some of Hollywood's hippest young celebs have been spotted wearing some crazy trends of late, from daring cut-out dresses to lace shorts. If you dare to wear any of these 4 hot summer trends, be sure to keep these basic rules in mind to make sure the end result is trendy, not trashy.
1. Cut-outs (as seen on Selena Gomez). It might seem obvious, but if you're wearing a dress with sexy cut-outs on the sides or at the collarbone, keep the rest of your look super-simple. No crazy hair, jewelry, or other accessories to compete with your dress.
2. Lace (as seen on Emma Watson). Think lace is just for trimming? Think again, and witness celebs in lace dresses, tops, and even shorts! Tone down the frilliness by pairing a lacy item with something structured (think a blouse with a blazer). And if you're going to wear a sheer dress or top, layer it over something solid for a look that's sexy, not skanky.
3. Cropped Tops (as seen on Rihanna). Certainly, the sultry singer has the abs to rock a mid-riff top. But if you're not feeling quite ready to flash your abs quite yet, try layering a loose cropped top over a long, lean tank top. This year's round of cropped tops are slightly oversized and very casual, not tight and tiny like the ones of years past, so they're much more forgiving to those of us not blessed with a dancer's body!
4. Geometric Prints (as seen on Katy Perry). Bottom line on prints: you love 'em or you hate 'em! As a general rule, keep accessories to a minimum with a boldly patterned piece. Or dip a toe into this trend with a smaller item, like a clutch or scarf, before purchasing a larger clothing item.
Related posts: