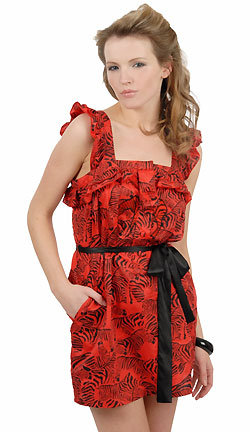 We are approaching the middle of May and somehow it still feels like winter! We had a few days of glorious sun round Easter time, when the coats came off, our white legs got their first outing of the year, hell, I even had my first ice cream of the summer! But now, especially the last few days, I'm really feeling a real chill! My winter coat has crept back to the forefront of my closet, I am glued to my jeans and the thought of wearing a dress without tights sends a shudder down my spine.
However, I for one, have had enough! I have decided to make a stand against the 'British weather', I will not let it dictate my summer wardrobe, I refuse to spent my entire summer months in a pair of jeans and my winter coat. I want to wear fabulous summer dresses this year and I have decided that I will (no matter if it's raining cats and dogs!)
So if like me you are determined not to let the British weather dampen you summer style, then my I suggest you have a peruse on Moonspark. Moonspark have an eye-catching array of fantastic dresses, skirts and accessories, all reasonably priced, and perfect for making you sizzle all summer long, whether you are heading to an exotic escape, or just residing in the glum weather at home.
This eye catching People's Market Zebra Print Ruffle Dress £52.99, is a must have for any one who is wanting to make a statement. A perfect dress for summer, with ruffles to the front and straps, and the silky waist sash makes this dress a must for cocktail hour home, or abroad.
For an evening out, (on home soil) I would team this printed ruffle mini dress, with black, high heel, ankle boots and the stunning black Mischa Barton, £29.99. I'd also replace the waist sash with the black MaxC Circular Deco Waist Belt, £12.99, for that extra hit of glamour.
If you are headed abroad this summer, I would simply replace the black boots with flat black gladiator sandals and a smug smile!!
All items and more fabulous additions can be found at Moonspark.
Also you ca laim an extra 10% off on selected items by typing "SUMMER" into the discount tab, when at the checkout!
Related posts: