Now that spring has finally sprung, we're naturally going to start thinking about summer weather, and that means the beach! If the mere thought of trading your covering clothing for a bikini has you in a panic, don't fret. It's easier than you think to find a swimsuit that's comfortable and flattering. And once you've got the suit, you can find loads of cute add-ons to emulate your favorite celeb style with cover-ups, hats, jewelry and totes that won't break the bank.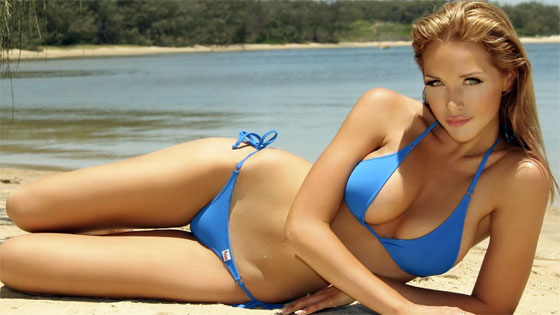 Start with the suit
There's a reason bikinis (and their more modest cousins, tankinis) are more popular than one-piece suits; buying a separate top and bottom allows you to customize the fit! And once you've got a collection going, you can start mixing and matching the tops and bottoms for even more cute suit options.
A basic black bikini flatters everyone, but since we know you want more options than that, let's look at what you'll want to choose (and avoid!) to flatter your body type.
Darker colors slim and bright or patterned pieces draw the eye, so mix it up accordingly to distract from trouble spots.
Ruffles, beading, and other detail work can make a smaller chest seem larger, so look for bikini tops with these accents. Avoid racer-back sporty styles.
A string bikini can be adjusted to fit any and all hips, which is why it's so flattering! Bottoms with a higher-cut leg also help to visually elongate the leg and slim the hip/thigh area. Boy-short styles are good for those with very straight figures.
Fuller in the hips? Consider a retro style for more coverage.
Want to conceal a tummy? A one-piece or tankini with ruching does the trick!
If you are expecting, there are many options for maternity swimwear also available.
Now grab your accessories
You're a smart girl, so you know you need sun protection. Grab cute sunnies in a cat-eye style for a very 2013 retro look, or try a classic pair of Wayfarers to get in on the military-chic trend. A crushable cowgirl hat is a great way to protect your hair and scalp from the sun and can be thrown in a beach bag when not in use.
A loose, flowy mid-thigh tunic is a great beach cover-up that can go out for a casual dinner later. Simply maxi dresses or skirts are popular too. Tribal prints are always hot but bright solid colors are good if your suit is printed and you don't want to clash. Whatever you choose, either to match your suit or as a separate style statement, just make sure it isn't see-through!
For the beach, flip flops or flat sandals are a must, but that doesn't mean you have to resort to the cheap rubber kind (though if that's your preference, by all means, grab a pair in every color of the rainbow!). A pretty pair of flat beaded sandals can carry you from the beach or poolside to an evening dinner meet-up with friends. If you're a die-hard heels girl, consider putting a pair of wedges in your beach bag so you can change from flip flops to something with a little more height once you've left the beach.
Finally, you'll want some jewelry! It goes without saying that you don't want to wear your precious gems to the beach and risk losing them, but that doesn't mean you have to go bare. A stack of bright bangles, some oversized beaded earrings or a bright anklet are all good ways to accessorize your suit, and they'll help you transition to dinner-ready later in the evening. The key to balance: don't wear anything so big and oversized it draws more attention than your swimsuit. Large hoop earrings and statement necklaces are out. Besides, who wants to deal with those tan lines?
Related posts: