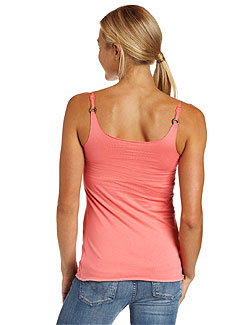 Coral pink, that perennial summer "it" color, is hot again this year, and it's so versatile and flattering that there's no reason not to wear it every day of the week. Color-shy? Here are a few easy ways to work it into your summer wardrobe.
If you're feeling bold, go head to toe in a sweet sundress (like the Midnight Masquerade Strapless Coral Dress, $62; lulus.com). Want to really stand out? Choose accessories in turquoise or yellow–also hot colors for summer. But no coral pink shoes, bag, etc.; matchy-matchy is never in season.
A coral pink top can inject a dose of happy into any neutral wardrobe, but if a top is just too rote for you, switch it up by putting the color on the bottom and highlight your tanned, toned legs with a pair of short-shorts in a bright coral hue. (Avoid the gym look by sticking to denim, not cotton: Moto Coral Denim Cut-off Hotpants; $55, topshop.com.)
At the beach, show off your tan in a coral pink swimsuit. This is one time when it's acceptable to "match" by pairing your suit with a pedicure in a zingy coral shade like Sally Hansen Xtreme Wear in Caribbean Coral ($3; drugstores).
If you're shy about color, dip a toe into the trend with an accessory. You can tote all your summer essentials in a bright bag, like the Echo Sundial Skinny Handle Bag ($42; zappos.com). A hint of color on shoes perks up any outfit (one sexy pair: Chinese Laundry Ivie in coral patent; $56.05, shoes.com).
Finally, if you're in love with the hue but just can't find a way to work it into your outfit for the day, swipe on a coral-colored lip gloss (like Revlon Super Lustrous Lipgloss in Coral Reef; $6, drugstores). See? Don't you feel more summery already?