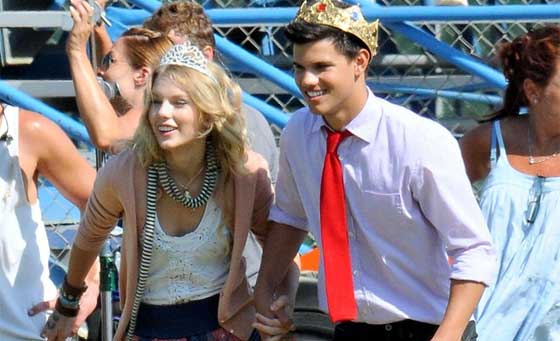 Taylor Swift has given clear hints that she and Taylor Lautner are an item, after she introduced the Twilight hunk to her mum during an intimate dinner date. The pair fuelled rumours of romance when they were spotted embracing during a nightout at a hockey game between the Los Angeles Kings and the Columbus Blue Jackets at the city's Staples Center recently.
While the couple claims that they are "just friends", Swift sent gossip mills into a spin after setting up a meeting between the actor and her mother. The Love Story hitmaker and Lautner are starring in upcoming movie, Valentine's Day.
The trio was spotted dining at swanky restaurant earlier this week, and the singer's mum seemingly liked her daughter's guy. "He seemed a little nervous at first but the young lady kept smiling at him and soon he appeared to relax," contactmusic reported.
Related posts: