Every year has its great styles and its not so great styles, in both the beauty and fashion departments. With the arrival of a new year, we look back at ten trends from 2012 we hope die out in the coming year and three we'd love to see get bigger!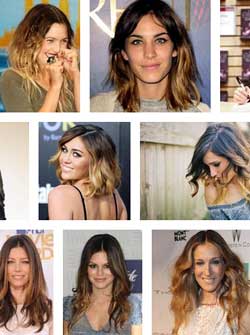 1. Ombre hair. It was model cool for a little while, but now what was a trendy hairstyle is being copied everywhere, and often with disastrous results. 2013 would be a good time to officially retire the two-tone faded hairstyle for something new.
2. Studded everything. It started out as a cool rocker trend and quickly morphed into a sea of clothing and accessories that were bristling with studs in various lengths and colors. Like most good things, studs are best in moderation, so we propose a return to sparsely studded accessories (handbags, shoes) and clothing that won't hurt when worn.
3. Super-pointy nails. Lady Gaga reportedly said she couldn't use an iPhone because of her pointy nails, and Fergie was photographed with nails that looked positively lethal. But just because it's a trend doesn't mean it's a good thing, and these talon-like nails are due for retirement. Wondering what shape you should file your nails? Take a cue from your cuticles; if they're more square or rounded, your nail shape should follow suit. Unsure? A "squoval" looks good on everyone.
4. Cat eye makeup. Now, hear us out. The cat eye is both classic and cute, sexy and modern. But it's been done to death. Why not try doe-eyed makeup, colorful liner, or smudgy shadow instead?
5. Colorblocking. Another trend that was heavily overdone in 2012, colorblocking is now being pushed aside by tone on tone styling. It's a chic way to wear your favorite color head to toe without going totally monochromatic.
6. Super wide belts. There's the wide belt, and then there's the wrestling championship style belt that's been cropping up around the waists of even the most style-savvy stars. Swap it for a lady-like skinny belt. Bonus points if you choose a colored belt to add a little spice to an outfit.
7. Platform pumps. We've got nothing against a few extra inches, but ladylike pumps and sandals with lower heels and pointy toes are coming back into fashion. And consider this: a lower heel means less chance of face-planting in a crowd.
8. Crazy nail art. There's nail art, and then there's the textured, bead studded, out of this world nail art that has dominated the scene all year. Not convinced that this trend is being pushed aside? The 2013 fashion runways were full of subtle nude nails. Hint, hint.
9. Super-high topknots. The trend officially faltered when even Beyonce couldn't manage her super-high, super-round knot.
10. Super sheer anything. Celebs like Kristen Stewart flaunted their bods with sheer, cut-out, see-through dresses, but for the mere mortals among us, this look is a huge don't. Not to mention there's almost no place on earth you could reasonably go while dressed like this and not attract a ton of negative attention!
And now, three trends we hope will expand: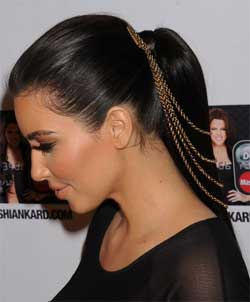 1. Hair jewelry. We've seen hints on Jennifer Lawrence and Florence Welch, but this is a trend that needs to take off big time. It's super-elegant and yet very modern at the same time.
2. Leopard as a neutral. It's so much better than flashy, in your face, dyed different colors leopard, which can quickly look tacky. Instead, try subtle leopard print on a bag or shoes as a neutral substitute for black. Look instantly sassier.
3. Shoes you can actually walk in. It started with cute ballerina flats and continued with wedge sneakers. Coupled with the fact that lower heels are coming back into fashion, it looks like 2013 might finally be the year when we can walk more than two city blocks in our favorite kicks with developing blisters.
Related posts: