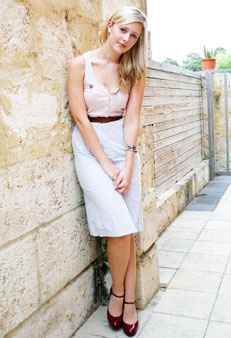 Choosing an outfit for a date is always a little nerve-wracking, but there's an extra dose of pressure when the date falls on a special occasion, like Valentine's Day. Wondering what your date will think of your ensemble can leave you paralyzed in front of the closet for hours, so if you need a little help, check out this list of some of the best and worst things to wear on a date (from a guy's perspective!).
Best: Cute ballet flats. You care enough about looking good that you're not wearing hiking boots with that dress, but you're still wearing shoes comfy enough for dancing.
Worst: Sky-high stilettos. You'll be limping too badly to enjoy yourself. Also: teetering isn't sexy!
Best: A flirty, body-conscious (but not skintight) dress that shows a little bit of skin. Think a strapless, knee-length sundress.
Worst: Anything that needs to be taped in place. There's a fine line between sexy and trashy, and you won't look cute tugging at your clothes to avoid a wardrobe malfunction.
Best: A cute fitted coat, like a blazer or a cropped motorcycle jacket.
Worst: A parka or nothing at all. Yes, there are two wrong options! Guys want to see your shape, but they don't want to worry about you catching a cold.
Best: Something classic, like jeans and a tee.
Worst: Super-trendy outfits. Guys aren't fashion mavens, and they don't want to spend your date trying to figure out what you're wearing.
Best: An outfit that shows off your best asset and makes you look and feel fabulous.
Worst: An outfit that says ìI'm trying too hard.î If you're self-conscious about your middle, don't wear a skin-tight top, because you'll be too concentrated on holding in your tummy to enjoy your date. Highlight another part of your body that you love, like your long legs or toned arms. And don't wear a cut or color just because it's supposed to be 'hot'. Stick to what you love and what you know makes you look good. Confidence is hot!