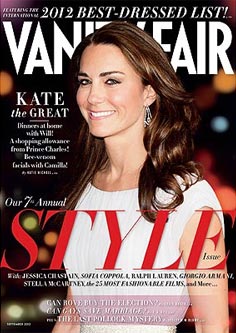 The Duchess of Cambridge aka everyone's favorite royal, Kate Middleton has topped Vanity Fair's annual International Best Dressed list for a third straight year.
The Duchess topped such other famous names as Jessica Chastain, Diane Kruger, and Lea Seydoux. Other royals who appeared on the list included Princess Alexandra of Greece, Princess Mary of Denmark, and Charlotte Casiraghi of Monaco.
The prestigious who's who of international fashion appears annually in Vanity Fair's glossy September issue, and it includes a gamut of names from models to actresses to socialites and designers. Other famous Brits to make this years list include designers Stella McCartney and none other than the Duchess' brother-in-law, Prince Harry.
Vanity Fair isn't the first publication to name the Duchess one of the best dressed women in the world. People magazine named her one of the ten most stylish women in the world last September; Harper's Bazaar then followed suit in November by putting her at the top of their list of best-dressed ladies.
The Duchess has won praise for wearing mostly British designers; some of her most famous choices include her Alexander McQueen wedding gown, and the teal Jenny Packham dress she wore to the Olympic themed concert in London back in May. She's also regularly seen during the day in designs by Brits like Packham, Alice Temperley, and Roland Mouret, along with a sampling of more thrifty High Street fashions.
And, yes, that's really Kate on the cover of the magazine. After Marie Claire South Africa photo-shopped Kate's head onto a model for a cover and a fashion spread inside the August issue of the magazine, it's nice to see the Duchess in her flesh-and-blood glory on the cover of one of the fashion world's hottest magazines.
Related posts: