George Osborne's recently released the Office for Budget Responsibility's (OBR) report on the state of the UK's finances. The report indicated that the economic recovery was taking longer than expected, which is thought to be attributable to a decline in business investment and consumer spending.
However, there has been an indication that the economy is starting to show signs of improvement: office neckties are beginning to get wider. Traditionally, the widths of men's ties have been an indirect indicator of the affluence of that era. For example, the 'yuppie' era of the eighties featured ridiculously wide ties (e.g. Gordon Gekko et al.); whereas the recession-hit era of the fifties, and more recently, the late noughties, have both featured much slimmer ties (e.g. Don Draper).
Brands such as Dunhill, Reiss, and Gucci are all starting to widen their neckwear, which has also meant that eighties patterns are making a return in the process. This means that the economic recovery could be showing signs of life; whether we make it back to Patrick Bateman-esque indulgence is another story.
We thought it would be interesting to examine the history of the necktie, and how they have changed their shape, length, width, and styles since they were first introduced. A word of advice, if you are currently working in London, you may want to invest in some wider neckties as soon as possible. This is because many fashion-savvy office workers in and around the capital are ditching their slimmer ties in favour of broader neckwear, and you don't want to be left behind.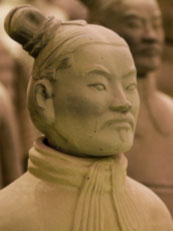 In 221 B.C. China's first emperor and his 'terracotta-army' were buried in an underground tomb, with each of the replica-army wearing a neck tie.
In 1650, the Croatian's military uniform featured a scarf, which became regarded as 'fashionable attire' in the court of King Louis XIV; in French, a tie was referred to as 'la cravate'.
In 1784, Beau Brummel was reported to be the first person to associate a neck tie with self-expression and distinctiveness. Brummel's opinion was taken seriously, because at the time he was an authority on men's fashion in Regency England.
A few years later, in America between 1800 and 1810, to touch another gentleman's cravat was considered distasteful and an indicator that you wished to challenge them to a duel; similar to slapping someone with your glove.
In 1864, the Germans patented the first ever mass-manufactured tie, which became hugely popular throughout Germany and the United States.
In 1920s France, fashion designers invented the first interpretation of a 'designer tie'; they featured patterns that were inspired by art-deco and cubism, and were crafted from more luxurious materials.
In 1936, the Duke of Windsor was credited with inventing the Windsor knot, which was a triangular knot placed on shirt collars. Coincidentally, being able to tie this form of knot is considered a rite of passage, as it signifies no longer being a school pupil.
By the 1940s, ties were more commonly adorned with patterns and geometric prints, which allowed for further individuality for its wearers.
By the 1950s, ties became much thinner, and also less-decorative, with more of an emphasis on clean, crisp tailoring. This trend was expertly captured by the television series, 'Mad Men', a fictional series set in 1950s America, which also was the catalyst for the rejuvenation of the trend for tailoring in recent years.
In the 1970s, Elvis Presley abandoned his stereotypical plain black tie, and began sporting a 'Kipper Tie', which was exceptionally wide and came in a range of gaudy colours and patterns. However, the fact that Elvis was an international superstar meant that this trend rapidly spread across the globe.
The new romantic trend of the 1980s gave rise to the skinny leather ties, which were generally worn with pinstripe shirts, and a Flock of Seagulls inspired quiff.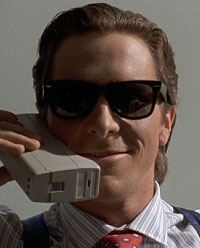 However, the rise of the 'Yuppie' in the 1980s also meant that incredibly wide ties were popular amongst the bankers of Wall Street, which were perfectly captured by Gordon Gekko, in the 1987 movie 'Wall Street'. It is this particular style of tie that is set to take the high street by storm in 2013, so it may be worthwhile watching some 80s films for inspiration, such as American Psycho or Trading Places. Since then, a number of tie trends have become fashionable and unfashionable again, like an office wear merry-go-round. In fact, some office workers are abandoning wearing ties altogether, with many people opting to express their individuality with an expertly folded pocket square instead. What this means for the economy is anybody's guess!