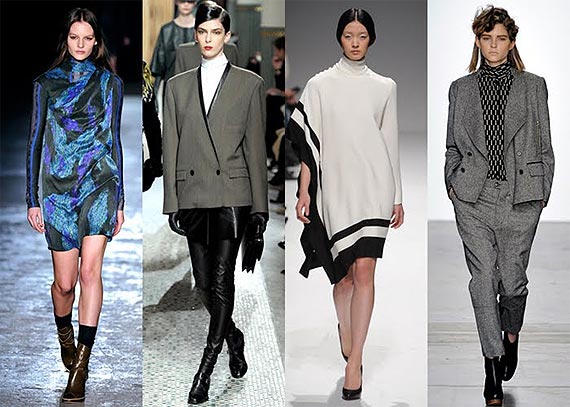 Who's ready to go shopping? There are several big fashion trends you should know about for fall 2011. Scope them out below, then watch for them when you hit the mall.
After seasons of skinny jeans, designers are finally ready for a new silhouette, so look for flared or bell-bottom jeans and trousers to return to store shelves. These look great paired with a wedge heel another big trend! which gives you all the height of a heel without the pain and pinched toes.
Also in the pants department, colored pants will probably return as a trend this year. They're great paired with a neural top, instead of the same old "blue jeans and a white tee" combo. Not sure what colors to pick? Look for shades of rust, mustard, and jade green, three hot hues for autumn.
Need a top to go with that? Chunky sweaters so snuggle-ready for chilly nights will be hip again this year. Remember to look for a knit that is chunky but drapey so it doesn't add a visual 10 pounds!
Plaid is a bit of a perennial pick for autumn, and this year is no exception. Try it in unexpected ways, like on a handbag or pair of shoes. Polka dots are also returning and can be worked into your outfit on accessories to avoid a Minnie Mouse effect.
Peplum silhouettes which nip in at the waist and flare out again at the hips appear on dresses and coats alike. This tends to be one of those come-and-go trends, so look for inexpensive pieces to get your fix.
Finally, this fall sees a polished version of lace cropping up on clothes, bags, shoes, and more. This trend was hot last fall as well, so you can break out last year's finds and re-wear them: instant recessionista chic!