When it comes to winter fashions, the jumper is undoubtedly the most important garment in your wardrobe. Acting as an important extra layer under your winter coat when out bracing the cold and keeping you warm when back inside too, the jumper is equally at home when worn over a t-shirt for a casual look or over a button-up shirt if you needed to look a bit smarter. But what is the best jumper for you? Here are a few of the key options for you this winter.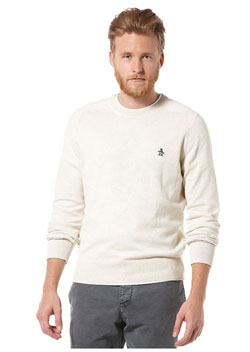 Crew Neck
The workhorse of the jumper world, the crew neck is a strong choice for almost any scenario. For added warmth and luxury, invest in a lambswool jumper from a brand such as Original Penguin. If the cut is right, the top few inches of your collared shirt should still peek out over the brim of the garment, whereas a contrasting-coloured t-shirt will bring a small splash of colour to the neckline.
V-Neck
The V-neck jumper offers all of the benefits of the crew, however it will show off a little more of the layer below. This is the perfect option to wear over a shirt and tie for the office party. Although lambswool works well again here, if you are pairing with a shirt and tie under a heavy coat, maybe consider merino wool instead for a lighter effect.
Polo Neck
Jumping in and out of fashion more than any other item of clothing, the polo or 'turtle neck' jumper is another option for the brave among you. The extra neck coverage coming in handy for the most brisk of winter chills. Chunkier knits work well as an outer layer, whereas thinner fabrics can be used as a base layer under a shirt or cardigan for a sophisticated look.
Funnel Neck
The funnel neck sweater sits somewhere between the crew and polo varieties, and would act as a good middle ground for those not brave enough to sport the turtle collar. It is always good to go with a heavy wool for this sweater, with stripes or other patterns the best way to go too. A plain block colour can be a bit much, so use the pattern to tone down the effect of the funnel neck.
Related posts: