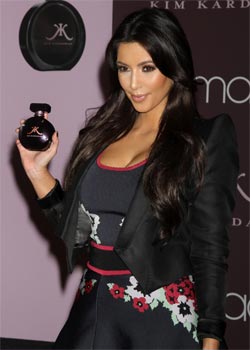 The Kardashian sisters Kim, Kourtney, and Khloe are arguably one of the world's best known trios, with a collective empire that includes multiple reality TV shows, clothing, fragrances, cosmetics deals, and high profile romances. And while they're perhaps most famous in their hometown of Los Angeles, California, their fashion label Kardashian Kollection is set to cross the pond this fall and invade Britain.
Kardashian Kollection is currently sold through Sears stores in the U.S., and includes everything from jeans to lingerie to dresses to handbags. The clothes (klothes?) are all designed and modeled by Kim, Kourtney, and Khloe, and reflect their fashion sensibilities (think lots of black and leopard print).
But now the sisters are going global, with plans to expand into thirteen countries including Turkey, Thailand, Malaysia, and Indonesia. Britain is at the top of the list, with high street chain Dorothy Parker picked to stock the brand. Kardashian Kollection will become available at 250 Dorothy Perkins stores and eight BHS shops nationwide this autumn.
The deal was spearheaded by Sir Philip Green, who owns Dorothy Perkins, BHS, and Topshop. His last major collaboration was a deal with Kate Moss to design a collection for Topshop, a move that proved to be good luck indeed as the clothes flew off the shelves. Whether the Kardashians will find equal success in the UK a far cry from their glitzy home is another story.
The news comes on the heels of a rumor that Kim Kardashian and beau Kanye West may collaborate on a shoe line and the power couple supposedly are discussing their plans with none other than Francois Henri Pinault, CEO of PPR, which owns such high end brands as Alexander McQueen, Gucci, and Louis Vuitton. Whether it will remain a rumor or come to fruition remains to be seen.
Related posts: