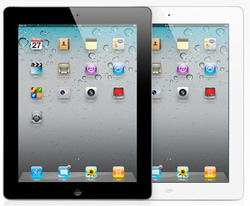 For ladies who are always on the go, finding gadgets that get it all done while remaining sleek and user-friendly is a must. The iPad 2 is one such gadget that any busy woman could appreciate.
Most women would probably agree they already lug around enough stuff in their purses, so the small dimensions and light weight of the iPad 2 make it perfect for the girl on the go. Lighter and faster than the original iPad, the iPad 2 offers many of the same functions a woman already uses on her laptop, such as web browsing and email, in a sleeker, cooler package.
Waiting room boredom is now a thing of the past, since the iPad 2 offers access to your favorite games and ebooks. And since many popular women's magazines are beginning to offer iPad subscriptions, flipping through the current issue of your favorite fashion mag is now as simple as pressing a button.
Family gals will probably love the built-in camera, which lets you capture your kids' Kodak moments even though the digital camera is sitting at home on the kitchen counter. And the FaceTime application makes video chatting with faraway loved ones a snap, especially for a woman who might not have time to sit down in front of the computer for more than a few minutes, but can chat on her tablet while watching the news or waiting at the laundromat.
Of course, it never hurts to look stylish while you're multitasking, so anyone shopping for an iPad 2 should be pleased to know that there's an almost limitless selection of stylish sleeves and bags on the market to accessorize your purchase. A little web browsing (perhaps on your new iPad 2?) will yield everything from colorful jelly sleeves to roomy totes, and for the luxury junkie, a black leather case from Chanel, styled after their classic quilted handbag.