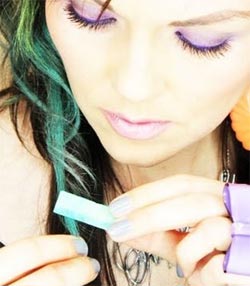 Fashion is, by default, a colorful affair. But the latest fashion craze take the love of color and standout style to a new height: hair chalking is taking the fashion world by storm, and the look has moved from the catwalk to the sidewalk.
Fashion savvy celebs have been stepping out with brightly colored hair for some time now; Nicki Minaj, Lauren Conrad, and Pixie Lott are all fans of the colored hair trend, frequently sporting pink stripes or tints. Couture designers have also been embracing the trend for some time, with Chanel and Marc Jacobs both employing the trend in their runway shows earlier this year. Karl Lagerfield showed a Chanel collection themed around the French queen Marie Antoinette, complete with models with pastel colored hair.
Now, the trend has moved from the upper echelon of runway and celeb salons to the high street. The way for mere mortals to recreate these brightly colored looks, without permanence or fear of a ghastly mistake? Hair chalk.
Hair chalk can be used to add allover color, streaks, or an ombre fade, in a variety of wild colors like pink, purple, or blue. The chalk washes out after a few shampoos, making it perfect for a wild weekend look or a special occasion like a festival; when you're ready to return to a more conventional social setting, like work or school, the chalk will be gone and you'll be back to your normal hair look.
Hairdressers advise newbies to use good quality wax chalk and seal the color with a straightening or curling iron to set it. The heat helps the color adhere to the hair temporarily. If your hair is very dark, applying the chalk to damp hair and setting with a hairdryer can help produce a more visible color result, while light base shades can get away with using the chalk on dry hair.