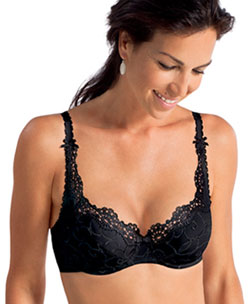 As the festive season draws upon us, it is time for us ladies to put on our favourite party dresses and sparkly heels and venture out into the chilly nights to celebrate with friends and family. However, for the majority of people, the festive season is also about pure indulgence. Food, wine and sweeties are usually on the menu and can leave us feeling a little self-conscious about our figures.
So to help (and even save) the guilt of eating the 50th mince pie of the day, all you need is the perfect shapewear to smooth and sculpt our womanly curves. This is why lingerie brand Playtex has come to the rescue with their fabulous range of festive season shape wear.
Why wait to look slimmer when Playtex have the solution to give you an instant slimming effect?
Our Pure Control Shapewear is cleverly designed to make women feel slimmer and look up to one dress size smaller, whatever their shape. Invisible under clothes, this great shapewear range combines comfort with smart design. The Pure Control range also features slimming technology including Powernet lining to ensure strong support and gathering to provide shapely contours.
Furthermore our three-step flat zig zag stiching ensures invisibility and the silicone waistband guarantees it stays in place. The Playtex Pure Control range offers varying options of high-level support for the tummy, bottom and thigh areas.
Pure Control Maxi
This is the perfect choice for an instantly slimming effect on the tummy, bottom and hips. With satin-like fabric and strong all over elastic. RRP £26.50
Pure Control Waistliner
The silicone waistband and three-step zig-zag stitching on the Pure Control Waistliner ensure hip and tummy areas are flattened to give a noticeably slimmer silhouette. RRP £30.50
Pure Control High Waist Long Leg
For the dream package in control underwear, the High Waist Long Leg tackles all three-problem areas in one, combining satin-like fabric with silicone waistband and three-step zig-zag stitching. RRP £35.50
Available in both black and skin tones the Pure Control range means looking amazing has never been more comfortable. Playtex Pure Control is available now in all good lingerie stores, independent retailers and online.