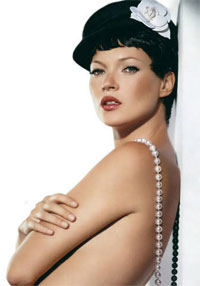 After conquering the modelling world and storming the high street with her Topshop threads, Kate Moss is rustling up some recipes to tickle tastebuds, according to sources. The catwalk queen has reportedly decided to write a cookbook after being inspired by Topshop boss Sir Philip Green's stepdaughter Stasha Palos, who recently penned her very own recipe book of traditional Jewish dishes.
"Kate recently cooked Jamie a slap-up Jewish meal following kosher techniques from Stasha. She loves her easy-to-follow recipes," the Mirror quoted an insider as saying.
"It's all she's been taking about. Stasha is due to release her book this year and Kate has been testing out the recipes," the source added.
The Croydon-born supermodel has reportedly been trying her hand at everything from chicken noodle soup to salt beef and potato latkes, nondairy pareve carrot and honey cakes.
"Her friend Davinia Taylor has been helping and Kate is always on the phone to her pals for tips," the insider said. "She is buzzing about the idea of being the first supermodel to release a cookbook," she added.
Related posts: