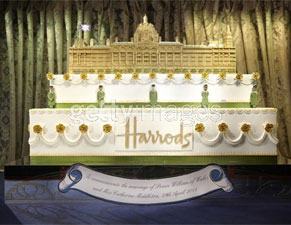 With the royal wedding approaching curiosity is reaching new heights. Everyone wants to know every detail of the wedding, the wedding gown, the guest list, the gifts and yes the royal wedding cake!
Fiona Cairns, a cake designer based in Leicestershire has been chosen to create the wedding cake of the century. Prince William and ms Kate Middleton have requested a traditional multi-tiered fruit cake for their wedding. They have favored a white and cream cake sans any color.
For the reception, the prince has asked for a chocolate biscuit cake and McVities is recreating his childhood favorite from a traditional royal recipe. They are using plenty of dark chocolate and rich tea biscuits. It is being developed in a test bakery by the biscuit giants and is an unbaked cake.
Fiona has traveled a long way from being a home kitchen baker to a highly celebrated cake designer who is always in demand. She has revealed that the royal cake will have a floral theme influenced by the Lambeth technique. The cake will flaunt 16 different flowers and leaves, each with its own meaning. Among them, the English rose, Welsh daffodil, Irish shamrock and Scottish thistle represent the four home nations.
It was the Prince's fiancée who came up with the complete idea, and she was well prepared with mood boards when the couple first met with Fiona. The other blooms that will be part of the cake decorations include bridal roses symbolizing happiness, oak and acorn for endurance and strength, lily of the valley for humility and sweetness and ivy leaves to represent marriage. It also includes a flower representing gallantry and perfection- the Sweet William!
Related posts: