For the Lord himself will come down from heaven, with a loud command, with the voice of the archangel and with the trumpet call of God, and the dead in Christ will rise again.
– 1 Thessalonians 4:15-17
Erm…. not quiet as dramatic as the above quotation but almost… for me anyway! Kate Moss's second collection of the year has now risen and is on sale in a Topshop near you, and its good guys its really really good…. So good in fact I am currently on the phone to my bank in an attempt to extend my overdraft!!
The collection is based on her long summers spent in Ibiza, the festivals she has attended, and the intermit finds she has acquired whilst on her travels and throughout he long fruitful life in the fashion industry.
The high summer collection is a lovely mix of animal print, tie-dye, summer sequins and some beautiful limited addition pieces! In my opinion is is the best we've seen from Miss Moss in a while. The collections release is in accordance with payday so nothing (apart from your dreaded rent) should be holding you back in your quest for the perfect summer wardrobe. So sharpen your elbows head into town and peruse this exquisite collection…or, sit on your bum, like me, and order it from the comfort of your own home!
I have listed some of my personal favourites!!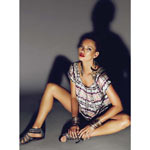 The Tie-Dye blouse
A stunning multi coloured shirt costing £40.00, is perfect for festival season. If your of on your jolly's this year, would tuck this into denim hot pants and team with gladiator sandals or if attending a festival, I'd wear this with my green festival wellies and a chunky brown leather belt over the bottom of the shirt. Accessorize with lots of dangling boho jewelry, a homemade daisy chain headband and festival hair!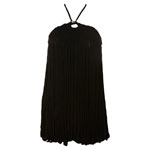 Weave halter Mini
Another statement piece, this dresses is from the limited addition range and its completely individual and perfect for the long legged amongst us! The weave halter neck detail and body-con shape with tassel detail makes this dress simply divine, and perfect for any summer holiday. On this occasion I would let this dress do all the talking, and team it with black gladiator sandals, tied back hair and lots of wrist bangles.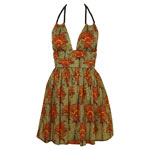 Kaftan Liberty print Dress
This Kaftan dress is one of the many stunning summer dresses to choose from within the Kate Moss collection! The beautiful rope halter neck detail and stunning liberty print makes this simple summer design a complete show stopper. Simple hair, simple jewelry and simple shoes are all you will need to accompany this outfit. In the day i'd wear this with flat ballet pumps, of an evening i'd add a clash colour clutch and skin coloured t.bar heels.
I could seriously go on all day! However I will stop there and let you go to the Topshop website and pick some favourites of your own!
Keep a particular eye out for the stunning vests and scarf's that will be essential to your wardrobe if you are attending festivals this year!
Happy shopping
Related posts: