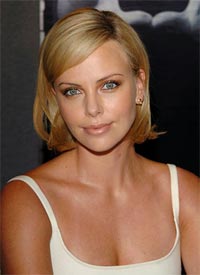 Charlize Theron has been inspired to take Spanish lessons after learning to curse in the language on the sets of her new film The Burning Plain. The 33-year-old worked with Mexican director Guillermo Arriaga on the film and the moviemaker helped improve her Spanish skills by teaching her a string of swear words, Contactmusic.com reports.
Theron now admits that she desperately wanted to pick up some basic phrases before she started working on the movie, but never found the time. "Of course, he taught me the dirty stuff ! I had this fantasy 'cos I've always wanted to learn Spanish, that I would learn Spanish before I shot the movie with him, that he would be really impressed with me and direct me in Spanish but of course it never happened," she said.
The experience has made Theron realize that she needs to start taking language classes. "I'm really embarrassed to say that I don't speak Spanish. I've lived in California for eight years and I just think it should be a prerequisite," she said.