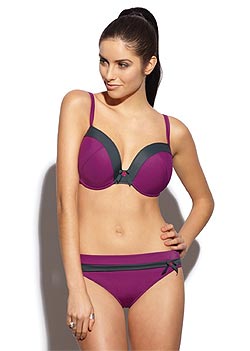 Whether your style is superstar glam, quirky vintage or sporty siren this season's swimwear has some of the hottest looks to ever hit the high street. You are likely to wear your swimwear more than any other item of clothing from your holiday wardrobe. It is therefore unsurprising that this summer's swimwear designs have developed far beyond your average one-piece or two-piece.
The key to the hottest swimwear this season is detailing; leave the practicalities at the airport and embrace the glamour and glitz of the latest trends. New materials, pretty patterns, added frills and gems but if you really want to make an impression no fashionista would even contemplate hitting the beach without a cut out swimsuit.
The cut out swimsuit has been one of the biggest trends to hit the 2012 summer wardrobe. First spotted on celebrities such as Paris Hilton, Kelly Brooks and Christina Milian this growing trend has already reached the high street with a wide range of shapes and styles taking over the swimwear department.
Although the cut out swimsuits might seem a little daring they can prove flattering to various body shapes and give you the confidence that you need to pull them off. Depending on where the material is positioned they can create curves on a slimmer build or slim down a curvier figure simply by cleverly revealing your 'best bits'. The majority of the cut-out swimsuits on the high street will tend to favour slimmer builds but specialist brands such as Panache swimwear have options specifically designed to flatter and make you look great.
You may need to sacrifice the sunbathing as these swimsuits will most definitely leave you looking a little patchy but with the glamorous shapes, styles and crisscross straps creating an a-list celebrity look who needs a tan?
Stockists of Panache swimwear include www.mycurvesandme.com where you can fins a wide range of cheap bikinis.
Related posts: