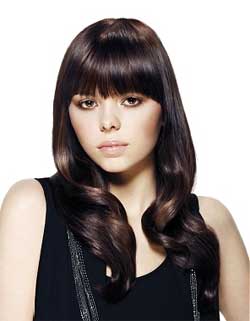 From the red carpet to the aisles of your nearest drugstore, a whole new wave of beauty trends has washed in to brighten your spring. If you're ready to try out something new, consider trying one of these hot spring beauty trends.
1. Army green nails. The shade this year is a softer, more pastel olive than seen in recent years, straying more to the green side than brown or yellow. While it might seem like an odd color for a manicure, it actually works well as a non-basic neutral. The key, however, is to wear this shade with your girliest clothes, think sweet floral frocks and chunky wedges, so the color looks polished, not military.
2. Aqua eyes. Electric aqua eyeshadows and liners are popping up everywhere, in a range of shades from dark to light. Bright limes and cobalts are trending, too. Before you jump into this trend, though, you need to know how to handle such intense color: start with a shadow primer, use a waterproof formula, make sure your brows are tidy, and pair with nude lips and cheeks. If such bright hues scare you, use a thin line along the upper lash line to add a pop of color to your face; if you want to go bolder, make sure to blend the edges with a neutral shadow. Don't extend the color past the crease, this looks dated, especially with blue hues.
3. Headbands. A huge trend on celebs at this year's Golden Globes, sparkly, girly headbands are a must for spring 2012. While you're no doubt used to slipping on a headband to keep your bangs off your face, this year, the trend sees headbands worked into the hair with pieces left out in front. You can even style yours into an updo, as actress Charlize Theron did at the Globes. Just make sure to opt for a low, messy bun rather than a high, polished knot, to avoid looking like the prom queen.
Related posts: