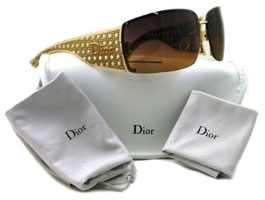 Summer is here! That means it's time to get out and shop for all your summer fashion accessories, including a fab new pair of sunglasses.
Just like you protect your skin with sunscreen, it's important to protect your eyes from harmful UV rays with a good pair of sunglasses but there's nothing that says you can't look super-stylish while you do so! So while you're compiling a list of hot new fashion buys for your summer wardrobe, consider picking a pair of designer shades to top it all off. There's a pair for every taste and style!
If your style could best be described as laidback and casual, then you want the ultimate cool girl's accessory, as seen on the likes of Julianne Hough, Blake Lively, and Pippa Middleton: a classic pair of aviator sunglasses. You can find these in a plethora of color and frame options to suit your taste. A pair of classic Ray Ban aviators, like Pippa's RB3026 pair, starts at just $112.
If you're glam and stylish, then follow the lead of stars like Eva Mendes and Kim Kardashian and opt for a chic pair of oversized sunglasses. Mendes has been spotted in a fab pair of Gucci 3131/S shades that start at $295; you can find other similar styles at similar prices from designers like Jimmy Choo, Dolce & Gabbana, and Prada.
Finally, if you dig the rocker look, then you'll probably love the styling of actress Kristen Stewart's Christian Dior Black Tie 8/S/N sunglasses, which start at $275. The actress likely finds the dark frames helpful to shiled her eyes from the flashbulbs of the paparazzi stalking the every move of both her and her Twilight costar Robert Pattinson. Stewart has also been spotted in classic Ray Ban Wayfarer sunglasses also a favorite of actress/singer Miley Cyrus.
Related posts: