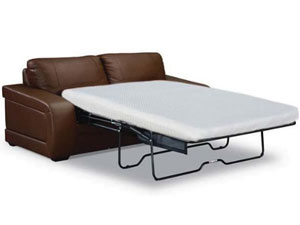 If you live in a small apartment, your floor space is at a premium, and it's important that every piece of furniture you buy be as functional as possible. In a small apartment with no sleeping space for guests, a sofa bed lets you quickly turn the living area into a guest bedroom for the night; in a studio apartment, a sleeper sofa is even more practical and necessary, since it allows you to seamlessly transition from a living space to a sleeping space in a flash at the end of the day.
Whatever purpose you have for buying a sofa bed, it's important to realize that not all sofa beds are created equal. You'll need to first think about how often you'll use the bed (for guests or nightly), since the mattresses included in sleeper sofas are typically not very comfortable. If you'll be using the sleeper sofa in a studio apartment as your primary bed, invest the extra money for a better mattress, you'll thank yourself later!
You'll also need to think about how much space you have to devote to the sleeper sofa. Because sleeper sofas fold out in different fashions, depending on the design, you may need more space behind or in front of the sofa unit. Sleeper sofas may also come in twin, full, or queen sizes, so think about how much floor space you'll have available for a larger model. You won't want to have to move your other furniture nightly in order to fold out your bed!
Finally, the style of the sleeper sofa is very important. Dozens of styles, from hideaways to futons to modern fold-down sofas, offer you choices for every taste. So be sure to shop around for a style that you'll enjoy looking at every day. Especially if you intend to use the sleeper sofa as your primary bed, now is not the time to settle for the first cheap futon you find; spend a little time looking at different styles and price points until you're sure you've found a sleeper sofa you'll love.
Related posts: