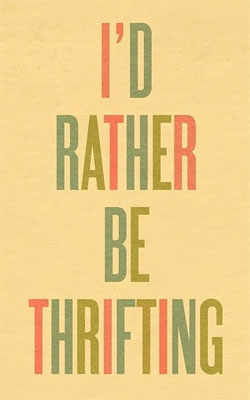 These are the days of throwaway fashion. Trends filter from the catwalk to the high street so quickly, that by the time the fashion slaves have grabbed those studded neoprene leggings, they're quickly yesterday's news and consigned to the pile marked 'recycle clothes'.
Everyone can take advantage of this situation. If you have a pile of clothes you haven't looked at since 1991, or haven't fit into since middle school recycling those clothes is a way of clawing back some of your hard earned cash. There's no point in keeping those leather trousers, even if they do remind you of your heyday, if you can be earning money from them. There are plenty of ways of recycling your clothes for cash, many of which will come and pick the clothes up from your home.
Likewise, if you're looking for a bargain why not start thrifting? The range of garments you'll find that have been recycled is astounding. Gone are the days when second-hand clothes meant a pleated tweed skirt or a moth-eaten salmon cardigan. Perfectly good clothes in a variety of styles can be found by thrifting. Modern clothes are plentiful, but so are recycled vintage bargains.
The materials of these recycled clothes are generally better quality and more resilient than what you'll find on the high street. Styling mightn't be quite street ready but small alterations, accessories or a pair of killer shoes can easily bring a vintage item in to the 21st century.
Up-cycling, recycling clothes, thrifting, vintage, pre-loved they're all hot words around the fashion blogs at the moment. A quick search will bring up hundreds of sites where you can find some inspiration on how to style and customised your thrifted hauls, and plenty of tutorials on how to best recycle clothes.
Recycled clothes can bring something to an outfit that you just can't get from mainstream shops. Items to keep an eye out for include:
Leather jackets: Great quality for the same price as a high street plastic copy.
Vintage dresses: Especially if you're petite. It's a little more difficult for those above a size 12. Costume jewellery For the same price as a mass-produced trinket that will probably turn your skin green, you can get your hands on some vintage costume jewellery that's unique, better quality, and much less likely to make you look mouldy.
So whether you're looking to make a little extra money from your unloved piles of clothes hidden at the back of your wardrobe, or want to make a statement with inexpensive unique garments clothes recycling is for you. Thrifting has definitely made a comeback.
Related posts: