Arguably one of the most exciting parts of planning a wedding is picking out the dress you'll wear on your big day. But with so many styles and designers to choose from, where do you start? Here are some tips to consider, taking into consideration style, body shape, and other factors.
How formal do you want to go?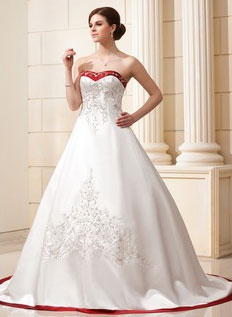 Believe it or not, you can adapt a number of different gown styles to a formal wedding, and the same goes for a more casual setting; sometimes it's the fabric used or another similar detail that's more important than the gown shape! As a rule, if you're wearing anything with a very long train, lots of exquisite beading, a very dressy shape like a mermaid silhouette, or something made of a very luxe fabric like silk, the feeling will be more formal. Some styles, like a classic A-line, can be made more informal with fabrics like eyelet lace. And if you're wearing a cocktail-length dress, it will feel better suited to a more relaxed wedding atmosphere (like a garden wedding) than a black-tie cathedral setting.
To white or not to white?
Blinding snow white might be the prevailing trend, but it's not necessarily the most flattering. Try on different shades of white in different types of lighting to see whether you would look better in bright white, linen, or even an ivory or ecru shade. If you're thinking of plunging in with a colored gown, ask yourself: will I still love this decision in forty years? If the answer is "maybe not", you might be better off with a colorful accessory, like shoes or a ribbon sash.
What accessories will you choose?
Some brides like to be blinged out, while others prefer a simpler look. If your gown is very ornate, you won't want to pile on gems and an elaborate veil, which will just distract from it. But if you're wearing a very simple gown, you can add touches like a vintage tiara, colorful wedding shoes, or a wide ribbon sash. A gown supplier like JJs House will feature a variety of gown styles and accessories to choose from, so bookmark your favorites and then compare them later on.
What's your body type?
How you feel when you look in the mirror is the most important thing, but there are a few body guidelines to consider. Strapless gowns flatter almost all women, but if you're broader it's important to look for a sweetheart neckline to avoid adding width. Big-busted women should be sure to choose a style that will allow for a supportive bra, while smaller-chested women should be careful of anything pre-molded that won't adjust in the bust.
If you want more coverage up top, sheer lace sleeves, off-the-shoulder styles or even a fancy shrug are good options that won't look frumpy. Ball gowns, A-line styles, and corseted gowns are flattering on almost all body types, but petite women should be careful of overly voluminous ball gowns, which can appear overwhelming on a small frame. If you're pear-shaped, be careful of shapeless sheaths.
What will be the wedding venue?
Whether your wedding will be outside or inside is important, but if you'll be going straight from the wedding to a packed reception, it's also important to think about whether you'll still be in your gown at the party. Will you select a second, simpler dress that will allow you to eat and dance—and if so, will you have a changing room available so you can switch dresses before the reception?
All of these tips can help guide you through the sea of dresses to narrow down your search to a few potential winners. Once you've settled on a series of designs that you really like, you're ready to try on those dresses to find "the one", so you can look as beautiful as you feel on your special day.
Related posts: