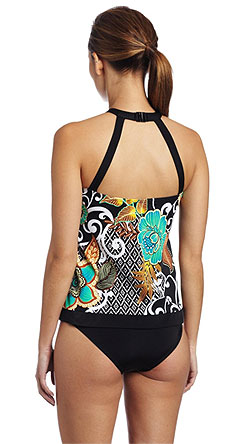 Beach season is here! Desperate to find a swimsuit that's cute and flatters your body type? It doesn't have to be a chore; just follow a few basic guidelines and you'll be out of that dressing room in no time.
If you've got a thin frame and want to visually add curves or enhance a small bust or booty, look for suits with wild prints or strategically placed ruffles. These give a visual pop and are a fun way to mix up your basic ol' bikini routine. One-piece suits with cool cutouts are also for you, so have fun experimenting!
If your torso is too long for the average one-piece, or you just like the mix-and-match freedom of bikinis, but you want more coverage try a tankini. You'll get the same mix-and-match options of regular two-piece suits but with more coverage up top. Whew!
If you're curvy on the bottom, there are a few tricks you can try. Suits with tie sides adjust to fit your hips, and the flirty new mini swimskirts from hot brands like Tommy Hilfiger add a little coverage to hips and thighs without looking anything like your great-aunt's swim skirt (promise!).
Curvy girls can also visually color block by pairing a dark or solid-colored bottom with a brightly colored or printed top, which draws the eye up and away from problem areas. Also look for neat designs at the neckline, like cutouts, hardware, or other interesting details.
If you've got a full bust and find that regular triangle tops don't offer enough support, look for a boned bandeau, which keeps you in place while looking cuter than your average underwire.
Finally, if you're concerned with allover slimming, look for a suit with ruching, which helps cinch you in and smooth out the little lumps and bumps. Time to hit the beach!
Related posts: