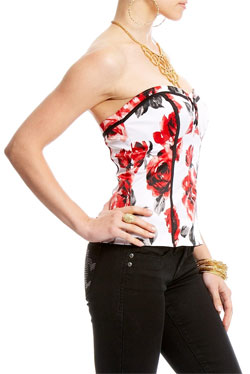 Spring is alive with wild, colorful prints, so if you've ever wanted to learn how to mix multiple prints into one outfit, now is the time! There are some basic things to keep in mind when mixing prints, but there are no hard and fast rules. In the end, you have to decide how daring you want to be and own your look!
It's easiest to mix prints if they contain similar colors, for example, two floral prints that both contain the same shade of blue. This gives the two prints a harmonious element that visually links them together for the eye, making the mixture less jarring. Following a common color theme throughout your outfit also makes the mismatch seem more intentional, since it's obvious you did indeed look in the mirror before leaving the house.
This is especially important if you plan on mixing two differing prints, like a floral and a graphic. Many people find it easier to mix like prints, but if you want to mix differing prints be sure to take into account the boldness of each piece. Two very bold pieces with very different prints can make you look horribly mismatched. (In other words, bold stripes with small dots, or vice versa, not both!)
It's also a good idea to follow a rule of scale when mixing two prints: the larger print covers a smaller area, and vice versa. This prevents the larger print from overwhelming the smaller, and prevents the eye from suffering a similar fate!
If mixing prints appeals to you, but you find it truly terrifying, take the easy way out: mix a printed top and scarf, or printed shoes with a printed skirt. This keeps one print very low-key, adding only the subtlest dose of mischief to your ensemble. But don't be afraid to experiment, after all, you can't know whether you'll love a look until you try it!