Everything rolls back to me, when I try to recall my prom night and its fierce preparation. Buying the best dress – getting matching jewellery – finding the right pair of sandal – spending hours in the parlor…. Oh God, it was seriously stressful! But, trust me, everything changes in a second, the moment you are there for the prom night. It's like, yes, I have been waiting for this for a long time!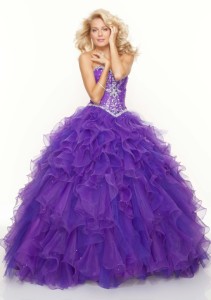 So, I know how excited you are, when you are preparing for the big day. When it comes to a prom night, every girl has the feeling to look beautiful and elegant, at the time they make the entry. If choosing the best dress is the first part of the task, then finding the right accessories for it is the second part. So, without wasting any time, let me give you some amazing tips to look dashing on the floor.
First of all, look at the color and the style of your dress. If your dress has embellishments on the bodice, better drop the idea of a necklace and go for some bracelet or snazzy earrings. You can opt for diamonds, if you are wearing a solid color dress.
Confirm your hairstyle and its accessories first, as it decides the kind of the earrings you will be wearing. You can go for a sparkly tiara or just use a hairband with jewels or with dried flowers.
Be sure to decide your hairstyle and dress, before you finalize your earrings. If you plan to go for the classic French twist, pearl drop or gold chandelier looks good and if your dress is heavy with beads and stone work, simple earrings will be fine.
Get the right necklace that match your dress. If your dress has no embellishments, then any heavy glittery necklace will do. If you have strapless dress, you are left with many options to choose from, like layered chains to single strand chain to thick heart pendants.
The next thing that you need to decide is on what you should carry with you. You can choose a wristlet or a clutch based on your choice. If you have the later one, make sure to take care of that, as it is strapless. It would be better if you could get one with handle as it is easy to carry and there you can stuff all your make up things, that you will need.
The next thing that you need is to get the right manicure, which goes well with your dress. If you are wearing a feminine pastel gown, then pastel pink or white color will look good, and if you are going for a black dress, you can choose a red polish or a glittering silver or a gold one.
So, once you are ready and set out for your day and You can also try in Modeling in Yacht in Dubai make sure to go with a bright smile, which catches the attention of others. It's your day, so just walk elegantly and complement others, when you meet them.