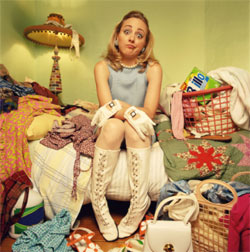 One is always short of space, especially with smaller homes or rooms. Furniture, colors and fabrics can all be tweaked to help create extra space and also a sense of space. The first step would be to remove clutter and unnecessary things from home and then use basic ideas to make small spaces work. Here are some great easy to execute tips that will help you create space where you thought there was none.
1. Use folding furniture. Sofa-cum bed, tables that fold into the walls or can be expanded when required.
2. Look for space saving furniture designs like coffee table storages that roll under the sofa when not in use.
3. Add shelves above doorways.
4. Book shelves below the window sills give you that extra space.
5. Use ottomans or chests with storage as coffee tables.
6. Utilize deep set windows with an extra glass shelf across it.
7. Keep window treatments simple.
8. Avoid bold or vibrant prints for upholstery, choose solids and soft textures.
9. Use soft hues and go mono chromatic.
10. Use corners with corner displays or book shelves.
11. Add shelves from top to bottom where possible.
12. Build storage space under window sills.
13. Use flat bottom baskets for extra storage. They can be used for stacking magazines too.
14. Create an open plan layout with minimum obstructions. Do away with walls wherever possible.
15. When building bunk beds, create drawers for the steps. That will provide ample storage space.
Related posts: