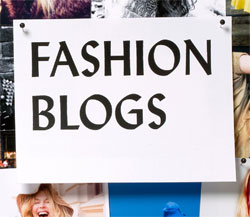 In the ever-changing world of fashion, bloggers are often at the forefront of the latest trends. Whether they're covering couture designs or Fashion Week collections, posting daily outfit photos or snapping away on the streets, fashion bloggers are the hip independent style makers keeping us updated in real time on the latest ways to look sharp. If you're just building your blog roll and need a few suggestions, here are the top fashion blogs to add to the top of the list:
The Sartorialist. One of the most popular fashion blogs on the web, the site is run by blogger and photographer Scott Schuman, whose work has appeared in GQ and Vogue Paris and resides in the permanent collection of the Victoria & Albert Museum. He's also worked on ad campaigns for giants like DKNY Jeans and Absolut, so you know he has an eye for an angle.
On The Sartorialist Schuman captures street style from around the world, with very little accompanying text to clutter things up. He features both men's and women's fashions on the blog, so you can peruse style inspiration for your guy or work a little menswear into your own wardrobe.
Style Scrapbook. Mexican-born Andy Torres has traveled the world and is currently settled in Amsterdam, and her global outlook shows through in her fashion blog, which leans heavily on outfit of the day posts. Torres has the fashion credentials to back up her blog: she's collaborated with Mango, sat in the front row at a host of Fashion Week events, and been featured in publications ranging from Elle to Teen Vogue.
College Fashion. Founded back in 2007 by Zephyr Basine, the little style blog quickly morphed into the center for all things fashion and beauty, by and for college girls. It's a great place to find more affordable fashion finds and tips for styling your favorite trends to fit into more normal situations, like school and work.
Street Peeper. Perpetual odd-jobber Phil Oh finally settled on blogging and street style photography in 2006 and hasn't looked back. The colorful, eye-catching street style photographs are a wealth of inspiration for anyone who loves and prefers street style to glossy magazine spreads.
Coco's Tea Party. A mix of street style, outfit posts, celebrity inspiration and magazine covers, Coco's Tea Party was launched in 2006 and has been featured in publications such as LOOK and Grazia Daily. Founder Ella Gregory got her fashion pedigree interning at magazines like Glamour and collaborating on events with Topshop, and gives a Hollywood-oriented spin on fashion blogging.
High Snobiety. Whether you're a dude looking to dress stylishly or a lady looking for a site that won't frighten a fashion-challenged partner, High Snobiety is the perfect mix of the sporty and the seriously stylish. A mix of news, collection highlights, outfit posts and buyers' guides make the site accessible and fun, even for those who don't regularly spend a lot of time reading fashion blogs per se.