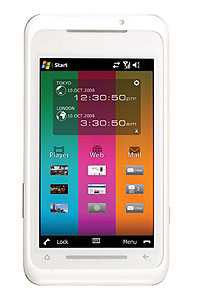 Yesterday Toshiba announced its impressive TG01 cell phone. With a 1 GHz processor, it's almost as fast as a netbook, so your web browsing and other applications (it runs Windows Mobile 6.1, so anything available for that phone platform will work) should operate very quickly on it. It's also got a 3.2-megapixel camera and a 4.1-inch, DVD-quality touchscreen.
It sounds like someone set out to cover every base the iPhone fails to for example, the TG01 supports Adobe Flash for graphics-intensive websites and a feature iPhone owners are wishing for daily but it has weaknesses of its own. Its touchscreen is not multi-touch, so the experience might be a bit less zippy than that of the iPhone.
There is no word on pricing, but the Toshiba TG01 is tipped to arrive in Europe sometime in Q3 this year and should be equal in stature to the HTC Touch HD in terms of pricing.