Known as one of the transcending fashions of all time, lace has been one of the most used embellishments on wedding gowns all over the world. With the likes of Princess Grace of Monaco and The Duchess of Cambridge choosing this fabric as the centerpiece of their wedding gowns, lace has been used throughout time to create timeless and effortless dresses that signify elegance and sophistication.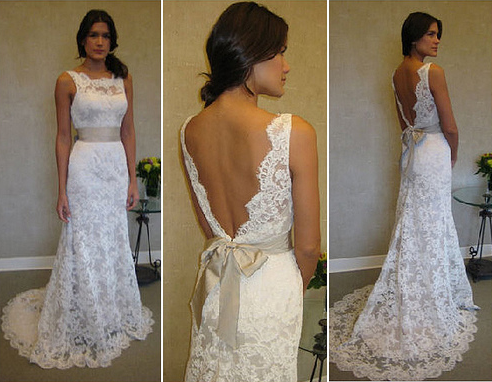 Here are some popular laces used in the bridal industry:
It is a fine and delicate material finished with scalloped edges. This is not only a popular choice on wedding gowns, but it is commonly used on wedding veils.
It is self-explanatory, embellished with beads, crystals and/or pearls creating a vintage fabric, a perfect choice for brides that want a touch of old world glamour.
It uses a heavier thread compared to the others, which will give a gown a three-dimensional look creating a chic and sophisticated style without the use of any intricate embellishments.
Bridal gown designer Sarah Janks has created her own range of fashion influenced wedding gowns using a range of these laces. Her 2015 spring collection captures old world glamour by using a vast range of lace with a modern twist, using only best laces of the world.
Many bridal dresses of 2015 focus on lace around the bodice, sleeves and neckline accentuating the bride's décolletage. Designers have recreated timeless silhouettes with laced bodices, transcending into sheer elegance. Since the royal wedding of Prince William and Kate, many brides have recreated the princess' timeless look with a lace bodice and full length sleeves.
Besides royalty, celebrities have succumbed to the fashion and have had high end designers create wedding gowns bursting with affluence and perfection. Kim Kardashian wore a striking Givenchy gown with sheer lace panels and sleeves, accentuating her curves, which created a sexy and sophisticated look. Singer Kelly Clarkson also opted for a lace number, but went for a more romantic approach with an Alice Temperley gown. Choosing an empire waistline, her vintage inspired gown was completed with a sheer lace overlay which fell effortlessly on the floor.
Lace can be used in so many wonderful ways on a wedding dress creating unique styles making any bride feel sophisticated and elegant. For lovers of lace, the use of the material does not have to stop at the dress. Many brides continue the statement with a simple veil finished with a scalloped lace edge. Alternatively, lace embellishments can be added to headpieces, stems of flower bouquets and even shoes. The use of the fabric is endless.
Designer wedding dresses continue to encapsulate old world glamour due to its growing trend and popularity with many brides. Sarah Janks, Alice Temperley and Givenchy are only a few of many designers that continue to make dreams come true, taking these influences and turning them into modern classics.