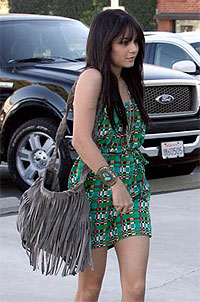 Fringed handbags are back in the style spotlight this summer. Some of today's hippest young celebrities, like Ashley Greene, Taylor Swift, Miley Cyrus, and Kourtney Kardashian, have all been spotted out and about carrying their favorite fringed bags. Here's how you can copy the look for less.
For starters, don't fret over the designer price tags of these celebs' favorite bags; while high-end designers like Prada, Versace, and Ralph Lauren have all embraced the trend, plenty of more wallet-friendly brands are manufacturing hip fringe bags as well. Stores like PacSun, Urban Outfitters, and Forever 21 all have great fringed bags for as little as $30, and of course you can find a plethora of affordable fringed handbags online as well.
Depending on what type of bag you usually carry, you can find fringe on small handbags, large hobo bags, or even clutches; but two of the most popular bag styles currently are roomy shoulder bags and cross-body bags. Both fit well with fringe's casual, slightly hippie-chic vibe, and are large enough to tote all your essentials for a day of shopping and chilling with your gal pals.
And just like you have multiple style options, you have lots of color options, too! While basic fringed leather bags often come in shades of brown or sometimes black or gray, you can find fringed bags in almost any color or print you could wish for! Some popular options seen on fringe-loving starlets include turquoise and leopard print, or you can look for a style with fierce buckle or stud hardware to amp up the rocker chick factor.
Just remember, to avoid looking like Annie Oakley, don't pile on more than one fringed accessory no fringed boots, vests, or scarves, please! Let your bag speak for itself without competition from other trendy accessories.