This previous week we have had some of the best weather so far this year. Clear blue skis, warm glittering sun and a gentle summers breeze. The birds sang in full, the butterflies danced, and swarms of people headed to their local parks and beaches to bask in what could have been our one-week of summer! Carrying their portable BBQ's, guitars and picnic baskets full of delicious summer supplies, people headed out to enjoy the sun and showcase their lovely summer clothes. Woman were wearing brightly coloured, sleeveless airy dresses, long floaty maxi dresses and open toe sandals perfect for when the weather is as glorious as it is now. I however missed the sun. I however, spent my entire weekend stuck in work, in a room with no air conditioning and the smallest windows known to man! However the worst is yet to come…. I had to wear the dreaded work uniform! Feared by many… heavy black trousers, black (covered toe) shoes and a long sleeved black top! Not ideal! After sweating it out all day in my restrictive, unpractical work uniform, I was inspired to write a little post for those of you that do have the choice to wear what you want (within reason) when at work. So if you are in fact one of the lucky ones, who is not restricted by a work uniform then 'Style My Way' is the website for you. It has a fantastic array of stunning summer dresses that are perfect for work. They are figure-flattering pieces, affordable and also incredibly versatile dresses, that translate into looks that will work within and outside of the office.
I have perused the website and selected two of my favourite dresses that are simply stunning, timeless and well crafted:
Black Belted Dress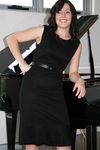 I think this dress is simply darling; again it is another versatile piece from Style My Way. The simple yet incredibly effective neckline gives this outfit the look of real elegance. Falling just below the knee, this is a dress that would be suitable for business meetings, however the suitable frill at the bottom of the dress, and with the right accessories, could translate the dress to an evening outfit. The spandex within the dress will flatter your figure and pull you in, in all the right places and at $59.95 it's a steal.
The Black Audrey Dress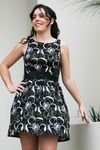 This stunning dress, with floral design is another show stopping piece at just $59.95. A perfect, figure flattering dress and one for so many different occasions. With a fitted black blazer and simple court shoe this would be ideal for a business presentations. However the outfit could translate to an evening look by simply removing the blazer, adding a clash colour evening shoe, and a clutch bag to finish the look. This stunning dress could also be worn at a wedding, with a simple white fascinator and shawl.
Happy shopping
Related posts: