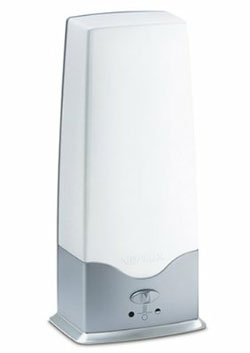 One of the keys to making any small space seem larger and more open is using light correctly. A room with plenty of natural light and lighter decor colors will feel much more expansive than an identical space with limited light and a dark decor palette.
While leaving windows uncovered will probably not be an option, choosing the right window coverings will dramatically enhance your space. Skip heavy layered draperies for sheer window panels, and hang them slightly high and outside of the window frame to visually enlarge the window. Letting in lots of natural light is key to making a space feel larger, but if you must, use blinds instead of thick curtains, since they don't have the same visually shrinking effect as voluminous curtains.
Strategically hung mirrors also help open up a space, since they reflect natural light. If your natural light is limited, it's important to add plenty of lamps with bright bulbs to mimic natural daylight; look for hanging, recessed, or track lighting over freestanding lamps if you're eager to save floor space. Spend some time choosing quality lamps, shades, and bulbs, since poor lighting can make any space look smaller and will also strain your eyes when reading or working. Make a good reading lamp a nonnegotiable necessity for your apartment; it's worth the loss of tabletop space.
There's more to using light in a studio apartment than merely opening the blinds. The color scheme you choose will also affect the visual 'space', since light colors reflect light and dark colors absorb it. You don't have to switch to a stark white palette, but painting the walls in a lighter hue will make a room feel larger, while using dark paint and furnishings can make it feel smaller and more cave-like. Restrict darker shades to accessories for impact that won't overwhelm a small space.