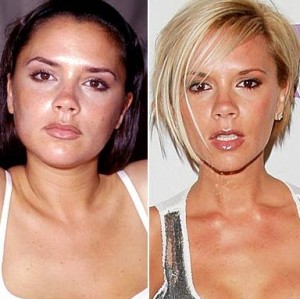 Birthname: Victoria Caroline Adams
Date of birth: 1974-04-17
Birthplace: Hertfordshire, England, UK
Height: 5′ 6″
Profession: Actress and Singer
She has two siblings, brother Christian and sister Louise, while parents, Jackie and Tony, ran a successful electrical wholesale business and were well off by most standards.
As a child, Victoria was surprisingly lonely; other children often teased her because of her acne and she would even ask her father not to drop her off in front of school so as not to be seen in the family's Rolls-Royce.
Such a personality made her an unlikely candidate for pop stardom, but she found herself in a band while in school. She studied at the Jason Theatre School as a child and then moved on to the Laine Arts Theatre College, where she also dabbled in dance and modeling.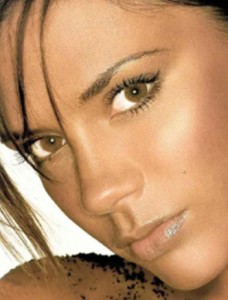 Although her original band never took off, her life was forever changed when she decided to answer an ad in The Stage that was looking for five women who could sing and dance to form a group.
Little did Victoria know that this ad would lead to a group called the Spice Girls, which would eventually leave an indelible mark in music history.
Released in 1996, the Spice Girls' first single, Wannabe, and their debut album, Spice, were smash hits in the US and abroad. Victoria, along with her band mates Emma, Geri, and the two Mels, became instant household names, with success that changed the face of pop culture and gave new meaning to "girl power."
With hits like '2 Become 1' and 'Spice Up Your Life,' the Spice Girls went on to sell over 35 million albums and 25 million singles worldwide, igniting a worldwide phenomenon in the process.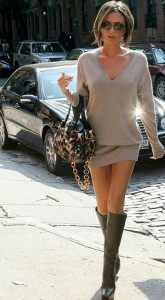 Worldwide tours followed, millions of albums sold, and also came a movie Spice World, 1997. But this mega success was relatively short-lived. Geri "Ginger Spice" Halliwell decided to split from the Girls in May 1998, leaving a huge void in the group.
After the remaining foursome released Forever in 2000, which was met with lukewarm sales, the Spice Girls decided to split up and pursue solo projects. Taking some time off and falling in love in the process, Victoria "Posh Spice" Adams wed soccer star David Beckham in July 1999, and together they have two sons, Brooklyn and Romeo.
Victoria Beckham has written an autobiography, entitled Learning to Fly (the title was taken from a line in a song from the musical Fame, which Victoria adored as a child). The book was the 3rd best selling non-fiction title of 2001 (total UK sales stand at more than 500,000 copies), and has been translated into several languages.
Victoria is widely believed to have told a Spanish journalist in 2005 that "I've never read a book in my life".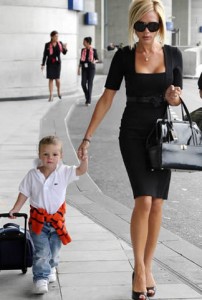 Although often used to criticise and ridicule Victoria, this 'quote' was actually a mistranslation from the original Spanish in which the interview was printed – she actually stated she never had time to finish reading a book because she was always running around after her children.
Her second book, a non-fiction fashion book titled That Extra Half an Inch: Hair, Heels and Everything In Between , was published on 30 Oct 2006. It was co-written by Hadley Freeman, deputy fashion editor of the Guardian and a contributing editor of Vogue. On the Sunday Times Book Charts the Book stand at No.2
she released her first solo album, Victoria Beckham, which has spawned the singles 'Not Such An Innocent Girl', which unfortunately was clobbered on the charts by Kylie Minogue's comeback single and 'A Mind Of Its Own.'
A previously unknown track, Back To Life, leaked online in 2005 after someone found it in a small record store. Although uncertain, it is believed this track dates from early recording sessions for the Victoria Beckham album.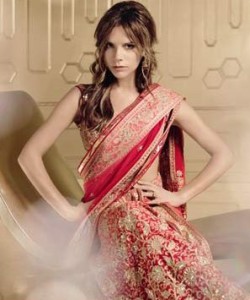 In spring 2006, hope for new tracks was raised when an auction for a CD of 25 unreleased songs from the Telstar / 19 Management era appeared on eBay. It eventually sold for £390, although the buyer never leaked the songs onto the internet after being warned by lawyers representing the copyright owner of the material.
Despite this, on 5 September 2006, eleven of Victoria's unreleased songs from the shelved Telstar pop-style album leaked online in various music and fan forums. Victoria is reportedly 'furious' that an album she deemed unfit for release has been heard .
List of unreleased music:
Let Your Head Go (Album Version)
Open Your Eyes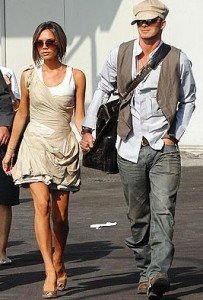 Be With You
Full Stop
Flow
The Hustler
25 Minutes
Me Without You
Should've Known Better
I'd Give It All Away
Bittersweet
Can't Get Enough (Of You DJ)
Shake It
Back To You
Every Little Thing
My Love Is For Real
When she isn't recording songs or tending to her family, Victoria loves shopping and taking care of her three Yorkshire Terriers. She is currently working on her upcoming singles and continues to live a happy life as Mrs. Victoria Beckham.
Related posts: