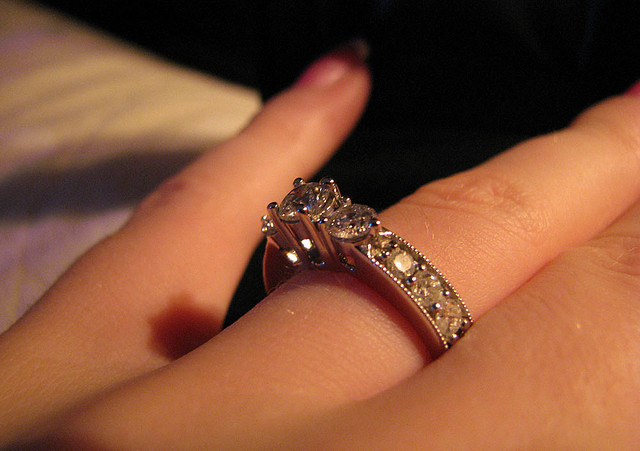 An engagement ring is more than just an accessory; it is a symbol of commitment between you and your partner. Many couples are now opting to buy an engagement ring together meaning that we women get more say in the style of ring we get. If you and your partner have decided to get engaged, choosing the ring together is a great way to document the engagement. Looking for an engagement ring is like looking for an investment. You should make sure that you know what you're looking for before you buy anything. The last thing you want is to spend too much money and end up with a poor quality ring. Here are some vital things you need to remember when buying an engagement ring.
Set a budget for the ring
Setting a budget before you start looking is vital. If you don't have an agreed budget, finding the perfect ring will be awkward. You may not know how much he is willing to spend on the ring. That means that you could start looking at rings that are way out of his price range. Sit down and have a frank talk before you choose the ring. Doing so will mean that you both know where you stand.
Get measured
The amount of people who start looking for engagement rings before they know their ring size is ridiculous. The first step before you do anything is measuring your ring finger. You don't want to have to mess around trying to make alterations to your ring. You want to find the ideal ring straight away.
Choose a quality jeweler
It is vital that you choose a quality jeweler from whom to buy your engagement ring. Make sure that you choose a jeweler who has a great number of years experience in the industry. A wedding ring should last a lifetime, and so you need to find the perfect piece.
Find the perfect band first
The band is the base of the ring. It is vital that you choose a band you will love for years. You need a wide variety from which to choose. Remember, you need a band that will go with everything. Silver is usually a safe bet when it comes to ring bands, as it is subtle, yet beautiful.
Choose a perfect cut
Believe it or not, the cut of the diamond is important. A diamond should sparkle and look beautiful in natural light. To see examples of well-cut diamonds, look at Houston engagement rings here. When a jeweler has done a good job with a diamond, it will shine. The angles will create a fortress for the light, and so the stone will hold natural light.  You need to make sure that the cut of the diamond is perfect before you buy a ring.
Look for clarity in the diamond
When you choose a ring, you are looking for clarity in the diamond. When a diamond is clear, it is valuable. You should know what you're looking for before you begin shopping. Make sure that you know how to spot a clear diamond before you look at any rings. You should never pay over the odds for a ring that doesn't suit you.
Colorless diamonds are priceless
The color of the diamond is also important. If a diamond has yellow shades, it means it is poor quality. The less color a diamond holds, the more money it is worth. Make sure that you look for diamonds that appear to have no color at all. Doing so will mean that you get the best diamond for your money. Hold the diamond up to the light to see whether there is any color inside it. If it looks clear, it will be a great buy.