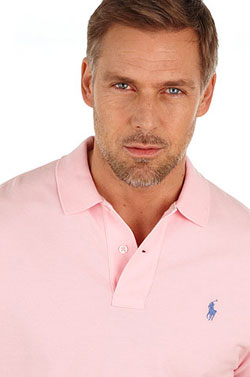 If you're a larger gent, you're probably familiar with the need to get clothes that fit well for the summer. Too big and they'll look shapeless and baggy, but too small and they'll stick to all the wrong places when the heat rises. Large size clothing that's both flattering and fashionable can be hard to come by, but this is where specialist retailers like High and Mighty can really help you out.
When you're dressing for warmer weather, choose lightweight fabrics where possible. If you're prone to perspiration, a light undershirt worn beneath your top will help mitigate unsightly sweat marks. Avoid anything clingy, and if you want to create a slimmer appearance, vertical lines are always effective.
For office or formal wear, materials are more important than ever since you'll likely be dressing in layers, despite the heat. Linen suits or lightweight wool are a must if you want to stay cool, and should be worn over a cotton-rich shirt. Try to avoid dark colours: a summer suit should be pale grey or cream. A single-breasted jacket gives a more slimming effect than a double-breasted one, and it's worth paying a little extra for one that has been tailored to your unique shape.
You have a few more options with casual wear in summer: the classic T-shirt and shorts always looks good, while a light V-neck sweater over a crew neck shirt in contrasting colours can work well too. This layered look also has the advantage of making you look taller and slimmer. The sweater should be a little loose, but not too much – it should fall in creases around your middle.
Finally, whatever you wear this summer, be comfortable in your clothes – comfort equals confidence!