Fashion trends are constantly changing. Among international fashion shows, more and more novel styles of wedding dresses spring up to amaze us. Currently, the illusion neckline is popular with many designers and we can see quite a large number of wedding dresses with that style walk down the runway, red carpet and also the aisle.
A wedding dress with an illusion neckline gives the illusion of a higher neckline while still showing some skin. This style is totally a big twist on the traditional sweetheart neckline. It creates a unique visual experience in a classy, ladylike and demure way. Besides, the wedding dress with a sheer tulle neckline is delicate and elegant, creating a hazy feeling while the wedding dress with a lace illusion neckline gives a bit more coverage to you in a romantic and vintage way. So take a look at these two different designs below from Cocomelody.com and enjoy their respective charm!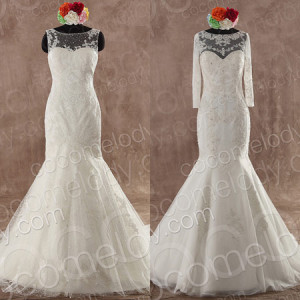 These two wedding dresses both have a tulle neckline. The left dress is adorned with sparkling beads on the neckline, adding fashion and glamour while the right one has intricate appliques, increasing something elegant.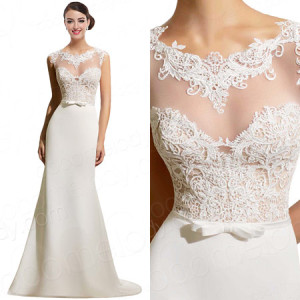 Next, look at this simple yet romantic wedding dress. It is made of high-quality chiffon and has a fitted bodice embellished with exquisite appliques. Not only that, the unique illusion neckline design with a sheer heart shape can be a highlight. I bet that you'll become the fairy tale princess when you wear it on your big day!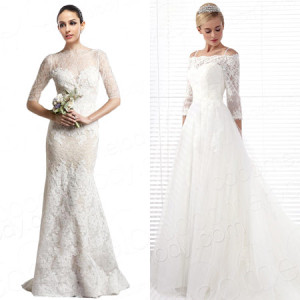 Lace can be classic and timeless. Certainly, it will not be absent on the illusion neckline. Whether the wedding dress has a boat neck or a high neck, lace is always able to fit in fashion to create vintage romance and show off the bride's graceful temperament.
Which kind of neckline do you prefer? Just drop us a comment here or on our Facebook and Pinterest.