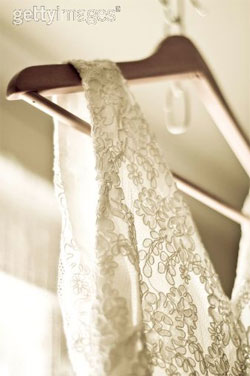 This year's wedding gown trends have plenty of options and then some more for the lucky Brides to be. There is something to suit every taste and fancy. Go trendy, classical, vintage, modern, long, short, minimalist, voluminous, bling, over the top embellishments, no embellishments…..the list is endless.
The designers have showcases a wide variety of trends and designs this year for the wedding gowns, making it easier for each bride to find a wedding gown that is very in and at the same time satisfies her desires.
The fabrics of choice are chiffon, light taffeta, tulle, organza and the all time favorite lace. All fabrics that give that light and dreamy look to the wedding gown and make it seem as if the bride just floated down the aisle. Leading wedding gown designers have chosen varying lengths this season, right from well above the knee (yet super elegant) to trailing gowns that make one feel like a princess.
Voluminous bell shaped gowns were as popular as the modern straight clean line gowns along with everything in between. Another major trend that came through this year was floral. Designers had incorporated fabric flowers of all possible sizes right from dainty roses to huge cabbage roses. The gowns sported single flowers to floral bodices and even entire gowns made to look like a huge flower. A leading designer had showcased a breathtakingly beautiful gown that looked like thousands of petals put together. One also came across gowns designed completely with laces to lend that elegant and modern look that reminds one of vintage styles.
With so much to choose from the brides to be are going to have plenty of fun looking for the wedding gown of their dreams. If you're visiting a wedding this year there are plenty of evening dresses at very.co.uk. It's important to look glamorous at weddings, but not to upstage the bride. There are plenty of evening dresses that allow guests to show off their own style for weddings or other occasions at the website.
Related posts: