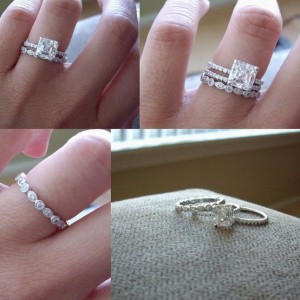 A promise ring is given and worn to symbolize a promise between two people. Traditionally, it is given for both romantic and platonic reasons. Now, those cute promise rings are like rings in the middle of an engagement ring and a wedding ring.
More about Promise Rings
A promise ring mainly signifies commitment and is now popularly considered as a pre-engagement ring. Men often give it to the women who they want to marry. They can also wear a matching ring to signify their faithfulness to the woman that they promise to marry.
Physically, promise rings don't need a precious stone on them, so they are less expensive than engagement rings. You can even give a ring with a simple sterling silver or gold band if you are worried about your budget.
While the idea of giving a promise ring may seem innovative, it has actually been around for a long time, as evident in those sacred writings and myths. They were even used to seal promises, while Bishops wear them as a sign of their allegiance to the church. In the 16th to 17th centuries in Europe, people used to exchange rings as a sign of friendship or love, even if they were not labeled as promise rings before.
Reasons for Giving a Promise Ring
Cute promise rings are often given as a symbol of pre-engagement, chastity, friendship, or simply as an admission of an exclusive dating relationship in some. They also serve as the perfect physical sign of commitment among couples who are still saving up for an engagement ring or wedding ring.
Since promises can vary from one individual to the next, it is best to be upfront in stating the specific promises and other intentions in giving and accepting the ring. You need to tell the other person just exactly what you are promising. It can be done through an accompanying note or in person, to make sure that your sentiments are known and to avoid misunderstandings.
Wearing a Promise Ring Properly
The rule of thumb in wearing these cute promise rings is to put the ring on the right ring finger, since the engagement ring and wedding band are often worn on the left. You can also put it on the middle finger or any other finger, except for the left ring finger.
A promise ring symbolizing a promise of monogamy can be worn on the right or left finger, although the right ring finger is preferred to avoid confusion with an engagement ring.
A promise ring for sexual abstinence is worn on the left ring finger. The purpose is to have it replaced by a wedding ring in the future.
A promise ring of substance abstinence can be worn on any finger.
A promise ring for friendship can be worn on any finger, as well, although the left ring finger might be avoided to avoid any romantic connotations.
You can shop for cute promise rings online, where you can find heart-shaped rings, halo rings, princess cut rings, flower rings, and more. But more than the act of giving a promise ring, you should be true to that promise, whatever it is.