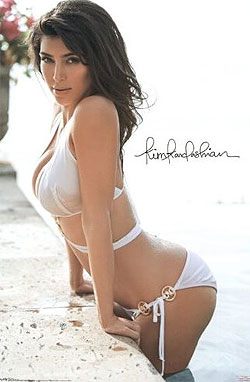 Little white bikinis are white-hot with celebs! Kate Middleton famously sported one during a vacation in Spain, and Elisabetta Canalis was spotted frolicking in one following her recent split from George Clooney. And a slew of other starlets, such as Eva Longoria, Kim Kardashian, and Serena Williams, have been spotted living it up beachside in sizzling white bikinis.
So, why opt for a white bikini over any other color? For starters, in a sea of traditional black or colored prints, it's an attention getter! And anything white automatically makes your skin look more tan by comparison, so it's a sneaky way to up your glow quotient!
When shopping for a white bikini, there are a couple of key things to remember. First, make sure the suit is fully lined so nothing will show through once you jump in the water. Second, realize that bright white can look strange under the dressing room lights, so it's best to take the suit home and try it on where you can model it in natural light. (Always check a store's return policies to be sure you can return swimwear if the tags are still attached.)
Want to jump on board with this trend? Here are a few cute suits to try from Victoria's Secret (victoriassecret.com):
For a basic banded halter top, try the Liya Push-Up Halter Top ($24). If you're on the small side, you might like the Ruffle-trim Tirangle Top ($20). Or, if you need more support, choose the Push-Up Triangle Top ($44), which has underwire cups.
Related posts: