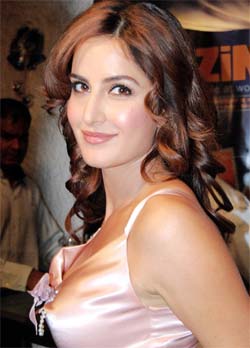 Katrina Kaif is proving to be the canniest woman in Bollywood with seven endorsements in her kitty three more to, come, and an average fee of Rs 3-5 crore per campaign.
Premium brands are lining up for her with her latest coup being replacing Sushmita Sen as brand ambassador for Pantene shampoo. She earlier made headlines after replacing Aishwarya Rai Bachchan as the face of Nakshatra diamonds. Katrina made less money than Ash on the deal but it established her as a player in the endorsement market, says Sonu Lakhwani, vice-president, Percept Talent Management, which got Katrina the deal.
Katrina is a go-getter, says Lakhwani. "She is one of the few celebrities who have their heads screwed on their shoulders." Sandya Ramachandran of Matrix Entertainment adds, "She has that global Indian feel about her which connects with the Indian and International audience, too." For a girl who, according to ad guru Prahlad Kakkar, "can't dance, can't act", good things did not happen by accident. "She might look dumb, but her business sense is sharp," says Kakkar.
Kat is the most searched celebrity on Google and FHM's 'sexiest woman alive'.
She is very correct when talking about her success. "It's a part of the industry that one replaces the other. Tomorrow someone else shall replace me, too." No rash claims about her current popularity either she makes the usual polite noises about feeling "overwhelmed" by fans' "love and appreciation" and working hard to "live up to their expectations". Ad guru, Prahlad Kakkar feels that the way she has steered her career has been remarkable: "She made a safe move by starting with established stars like Akshay Kumar or Salman Khan, and now when she is at the peak of her career, she is experimenting with actors of her age group, like Ranbir Kapoor. She is smart enough to realise that the future cannot be linked to one entity."
Article by Minakshi Saini from HT
Related posts: