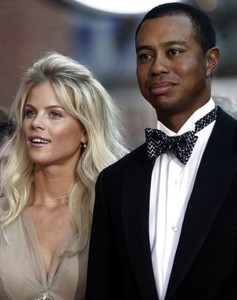 Golf's fallen hero Tiger Woods' wife Elin Nordegren has packed her bags and walked out of his life, according to media reports here. The British media quoted gossip website radaronline.
Com claiming that Elin has moved to a nearby house after numerous women claimed having illicit affairs with the American golfer. "Swedish model Elin Nordegren was reported to have moved out of the family's Florida 1.7million mansion as a Seventh woman claimed to have had secret liaisons with Woods," said 'The Daily Mirror'.
"It follows 10 days of explosive revelations about the sporting 'Mr Clean's' alleged adultery," it added. According to the report, Woods is trying to keep Elin's move a secret, hoping she would return home.
Woods' neighbours said Elin was now staying at a nearby house but it was not clear where their two children, Sam Alexis and 10-month-old Charlie Axel, were living. Woods is expected to be the best man at the wedding of his friend Bryon Bell and is also set to appear in Oprah Winfrey's TV show in a bid to save his marriage.
Woods' personal life lies in tatters after he crashed his SUV into a fire hydrant and tree in a bizarre November 27 accident, allegedly after a bust-up with his wife about his extra-marital activities. Subsequently, news poured in of his string of illicit affairs with numerous women and the golfer also admitted his transgression'.