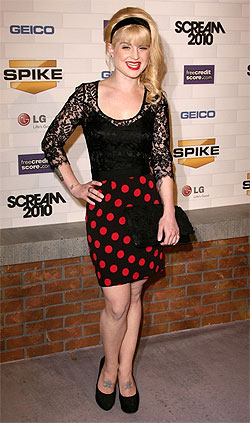 Kelly Osbourne has become well known for her quirky sense of fashion, and after appearing in the front row at London Fashion Week and joining E! Fashion Police with Joan Rivers, it looks like the feisty Brit is ready to make the leap into designing her own clothes.
The oldest daughter of Black Sabbath rocker Ozzy Osbourne sent the rumor mill into overdrive with a recent interview in which she said, "When my line comes out, I'll never make anything that won't be translated to plus-size." Kelly's weight has fluctuated over the years and she's been very candid about her struggles with her weight and her body image.
But after that statement, she took a step back, clarifying, "It's in the mood board stage at the moment. I've turned down every offer that's come my way because they won't let me have full creative control, and that's so important to me."
While her foray into fashion might not be ready to hit the runways anytime soon, Kelly insists she has all the necessary credentials, and says she'll be very involved in the creation of her line. "I wouldn't do it if I couldn't oversee everything… I wish I knew myself when it was going to happen." What wouldn't we see in Kelly's line? Apparently, mullet skirts and fringed flip-flop boots: she recently told UK Glamour that she can't stand either piece.
What does she love about fashion? "It's transformative, and also emotional, a way of expressing yourself." She insists that she's always been interested in fashion, even from a very young age, and has also said that she prefers London to L.A. (where she's currently based) because London has better high street fashion. Hmm, maybe Kelly will choose London as the base for her fashion line once she's ready to roll out her first collection?
Related posts: