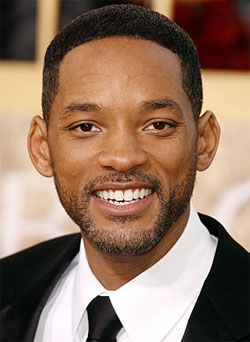 What attracted you to Seven Pounds?
It's an incredible modern love story And… has such powerful insight into human emotion. With actors like Rosario Dawson and Woody Harrelson (and) it's a real recipe for success. I play Ben Thomas, an IRS agent with a secret who embarks on a journey of redemption by changing the lives of seven strangers. Driven by a tragic accident, Ben feels cut of, unable to relate to the very humanity he seeks to help until he meets Emily Posa one of those strangers, who brings a rush of exhilaration back to his life, complicating everything.
Ben is the opposite of you, the darkness and the feelings. Was it challenging?
It was exhausting trying to pull myself down into the mental space of Ben Thomas. I've always played characters like, Muhammad Ali and even Captain Steven Hiller in Independence Day — people who have these fantastic reactions to trauma and they stand up and beat on their chest.
There's talk of a sequel for Hancock?
We've been talking about a sequel also for Hancock… but the ideas aren't as developed for yet. I think people will be surprised at the new world of Hancock.
Finally tell us how do you perceive Seven Pounds?
I think that it's a love story and it's truly about the healing power of love. The love story between Ben and Emily is beautiful but that's just one layer of it. Seven Pounds is not only about a man and a woman who find each other at a moment of crisis but a love story between a man and humanity.