With the steadily dropping temperatures, our fashion is steadily transitioning from T-shirts to sweaters, and from thin layers to cozy coat. Our footwear is no different! To help you prepare for winter (and your next shopping trip), below is a list of shoes that every woman should be equipped with come winter.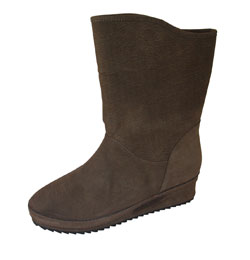 Guilty Pleasure Footwear. Face it; we all have to have that one shoe that exists purely to cradle our foot in pure bliss with fashion being long forgotten. For some this may be Uggs but, having seen how the wool is collected, we prefer the synthetic, vegan alternatives provided by Neuaura Shoes. Though we don't advocate wearing this casual look to the office or on date night, they're perfect to sport when relaxing by a toasty fireplace or meeting friends for a matinee movie.
Booties. Undeniably feminine these shoes can transition from casual to sexy, depending on the outfit and the effect you desire. For added balance during the most slippery of all the seasons, consider purchasing a version with a thicker heel and noticeable treading to prevent spills. Take note ladies, decorative buckles and velvet are a hot footwear trend for this winter, but be careful about exposing this textile to the rain and snow.
Knee-high Boots. Perfect for a night out on the town and a bit of extra warmth, pull these bad boys over your stockings or skinny jeans for a va-va-voom effect. Want to wear them with more conservative attire? You can downplay the natural sex appeal by donning them underneath your pants. While the looser, slouchier look was "in" during past seasons, this winter will be all about sleekness. This is a look that will ever go out of style, so invest in a quality pair that you can wear year after year.
Snow Boots. When the snow begins to fall and the sidewalks pile with a powdery white, most of the footwear in your closet will fail to keep your feet warm and dry. It is essential that you're prepared with boots that provide height, waterproof and insulating features and rubber lugs to prevent slipping. Make sure that it's not too tight around the leg, as you may want to tuck your jeans inside the boot to prevent the ends from getting soaked.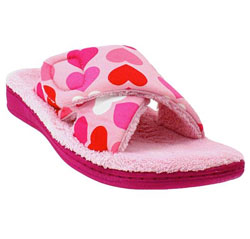 Slippers. When your rise in the morning, the last things you want to do is place your toes onto the cold floor. There's no greater pleasure than having a pair of slippers just waiting for you by the side of your bed, enveloping your lower extremities with snuggly warmth. For those readers who have flat feet or the common problem of plantar fasciitis, it is important to recognize that your soles benefit from arch support at all times, so consider investing in slippers from specialized brands like Orthaheel, found at Footwear Etc.
Tell us dear readers, what winter footwear would your closet be incomplete without?
Related posts: