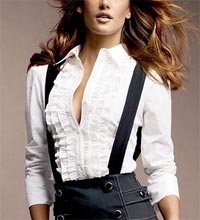 A third of women are prepared to dress provocatively in the workplace in order to climb the career ladder, says a report in Britain.
More than 27 percent admitted they would happily wear a slightly skimpy outfit to work if it won them a bonus or promotion. One in 20 of them even owned up to wearing revealing outfits to work on a regular basis, said the poll of 3,000 workers conducted by the fashion forum website theragtrader.
The research revealed that 78 percent of women believe the way they dress affects their day at work. And over half – 54 percent – believe dressing up helps them perform better in the office.
A spokesman for theragtrader.com study said: "The research proves that what you wear to work can really affect your success rate. This relates to both accomplishing more during 9-5 and even climbing the career ladder quicker too.
"Even when working from home, it's incredible how clothing can influence your productivity. If your clothing is too relaxed in style, it's harder to get into work mode and all too easy to waste the day."
The survey also revealed two thirds of women feel more in control if they are smartly dressed, while 61 percent think it gains them more respect from their colleagues.
Women were also more competitive in the office fashion stakes with 48 percent of women admitting there was an element of competition when it came to office attire, compared to just 27 percent of men.
Source: – Indo-Asian News Service
Related posts: