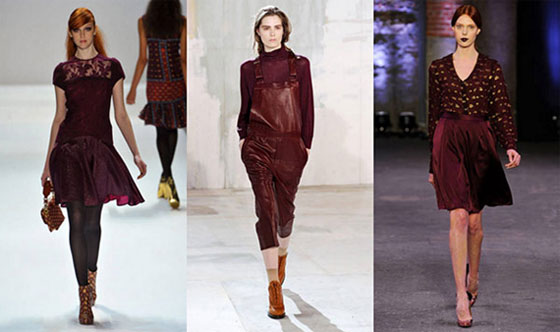 Fashions come and go, and lots of new trends crop up from one season to the next that both intrigue and frighten us. Peplum tops? Studs? Patterned tights? Don't worry, you don't need the lean frame of a supermodel or the fashion daring of a celebrity to pull off these looks. Here are some cool women's fashion trends you can wear this winter, even if you're a fashion newbie.
Patterned tights. Sweater tights, with cozy Fair Isle knit patterns, look super cute when worn with a mini and boots; pair them with a plain long-sleeved tee rather than a sweater to keep the look cute, not, er, woolly.
Studs. To many, studs scream "biker", but they don't have to be all tough and intimidating. Why not try a few strategically placed studs on a clutch, a pair of pumps, or on the trim of a blouse or jacket? Pair with ladylike items like a dress, a lace blouse, or a chain-strap handbag and you'll have a look that's still feminine.
A peplum top, coat, or dress. The flared shape looks scary, but it's actually perfect for ladies of all sizes. If you're athletic, it'll give you an hourglass figure; if you've already got the hourglass, guess what? It fits you perfectly, especially when paired with sleek bottoms like a pencil skirt or skinny jeans.
Sheer fabrics. There's a fine line between sheer and "wardrobe malfunction", so make sure you're wearing a) appropriate undergarments and b) not showing any other skin. A sheer top with skinny jeans is cute; with a micro mini it starts to look sleazy.
Brocades and baroque. Not daring enough for a dress with so much embellishment? Grab a handbag for a low-commitment dip into the trend.
Oxblood. Such a vampy color can be intimidating, but it's actually a great partner for camel, cream, and a variety of other fall shades like brown, rust, and mustard. Pairing it with these warm colors avoids any Goth connotations. Try it on shoes or jeans, or go vampy head-to-toe with an oxblood dress. Want to lighten it up? Use it as an accent.
Related posts: